We believe that to transform a place's food culture and food system requires a joined-up strategic approach and committed long-term collaboration between individuals and organisations across every sector and at every level, from community grassroots and third sector organisations to businesses and council leaders. Key to achieving this are: a strong cross-sector food partnership and an inspiring and ambitious food vision backed by a clear strategy and action plan.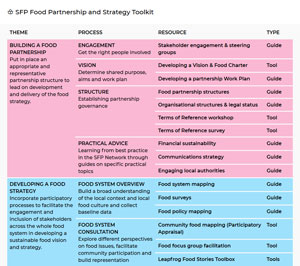 SFP Toolkit
Most of the local examples of best practice as well as the guides and tools supporting delivery of this Key Issue, can be found in the SFP Toolkit. It has been developed by the Sustainable Food Places team learning from the best practice across the SFP Network.

Open Toolkit
Resources
Latest resources
What you can do
The 'Developing a food strategy' theme of the SFP Toolkit – the blue section – contains resources to help you develop a sustainable food vision and strategy. In particular these resources will be useful:
Develop an action plan to deliver the food strategy in an inclusive, participatory and collaborative way through following suggestions in the Action planning guide and facilitating Action planning workshops
Guides & toolkits
Sustain's Food and Covid-19: How local authorities can support recovery and resilience report highlights three key areas that contribute to a strong local response: principles, processes and partnerships.
Local Policies
Bristol Food Policy Council secured strong references to food in the Health and Wellbeing Strategy. The HWB has a key strategic aim to use 'our combined influence and commissioning to support work to tackle obesity, nutritional deficiency and food poverty'. The Health and Wellbeing Strategy has 10 key priorities, one of which is food (page 5). The aim is 'to create a healthier, more sustainable, more resilient food system for the city to benefit the local economy and the environment'.