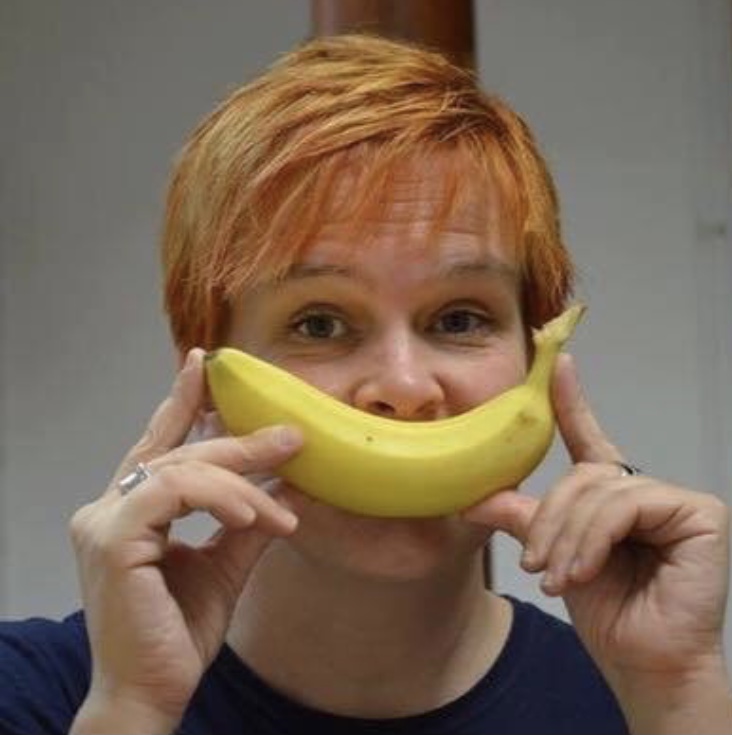 How did you become a Councillor?
I've been a Councillor for two years. One of the main reasons I wanted to become a Councillor was to tackle disadvantage, particularly related to food poverty and access to good food.
I used to work as FoodCycle's Regional Manager for the East of England and that's how I got interested in this area. I live in and represent King's Hedges, one of the most deprived wards in the city. I see big health inequalities that are growing. The difference in healthy life expectancy between King's Hedges and the centre of the city has grown from 10.1 years for men and 9.9 for women in 2018 to 11.6 to for both men and women today. Access to healthy diets can be an issue for communities across Cambridge but particularly for areas like King's Hedges and Abbey.
We are calling for a lead on food in every council but it's still rare to see an executive councillor on food. How did the role come about?
I'd been a councillor for two years when we had the elections this May and all city and county councillors were up for re-election in a big shake up. We have an executive system and two of our executive councillors lost their seats. It gave us an opportunity to have a re-think and a re-shuffle. I looked at it as an opportunity to enlarge my portfolio to include not just community safety but also public health and make it about community wellbeing. I also have open spaces in my portfolio, and we are looking at the connection between open spaces and mental health but also things like promoting community food growing, and including meanwhile growing spaces in planning applications. So that's really about sustainable food. It's one of our flagship areas of work in the council and while we don't procure a lot of food like the county does, we do a lot of work with businesses and communities, and see ourselves as having a central role in the move towards a sustainable and fairer food system.
How did covid change the way the council look at issues around access to food and did that help you make the case for having sustainable food in your portfolio?
I have to say I didn't have to push very hard, especially after the last year, it was pushing at an open door. This is something I have been working on as a councillor for a while. It's about slowly dripping it into people's consciousness. Councillors of all parties have seen evidence of the importance of access to food in their own communities, particularly in the food hubs. Most councillors are involved in their food hubs, involved in coordinating or volunteering. I've brought three motions now to full council on food justice. The first, in 2019, was a motion on food poverty in my first big meeting as a councillor. It really made us all stop and think, and was one of the rare times when we all agreed unanimously. It was the same with my motion endorsing the city's food poverty action plan – it passed without amendment.
Would you say the work of the food partnership helped you?
Most of our work happens in partnership. We've had a sustainable food policy for three years. It was introduced by a previous green councillor, but I think it's only really now that we understand what that policy means and what we can do with it. The food poverty alliance gave us that extra push. Just before covid, in the budget meeting of February 2020 I had secured a budget line for a central redistribution hub – Cambridge Sustainable Food is now operating that out of one of our repurposed community centres. So, we already had a commitment in the budget and we were going in that direction anyway, but covid accelerated that direction of travel. Having the food poverty alliance and the food poverty action plan which I put before the council in October we were already signed up to tackling food poverty. It really helped and we were able to move a lot quicker - councils often don't move that quickly.
What sustainable food areas are you responsible for overseeing?
There are overlaps with other portfolios, such as planning or waste and recycling. Promoting local food businesses is a key part of it, and that's an area where I work closely with Executive Councillor for Finance. Access to food is another major concern, in terms of planning we need to ensure housing is not developed without considering access to food shops, open spaces including for edible plants and community growing spaces.
What about climate? How does your portfolio intercepts with climate change?
We've just published a climate change strategy this year and food is a big part of that. Local authorities can be slow recognising those connections. The evidence is quite clear and I often wish they would come to the realisation a lot faster. I think it helps when you have people pushing that forward and putting that in the forefront of people's minds, people like Sam and Gemma [Cambridge Sustainable Food]. I have a motion going to council this month to sign the Glasgow Food and Climate Declaration. There are areas in the declaration that a bit less relevant for us because we are a district council, but it's still important.
What are your ambitions for the next 4 years?
Local government is really complex in Cambridge. We have a combined authority elected mayor, the county council and the city council. There is scope to do more joint work with them. I want to see the sustainable food message getting out there more widely, and that will be my main focus for the next four years. Consolidate and develop everything that we've got here in Cambridge, seeing more growing spaces, more community gardens, making sure we are still doing that in the city but making sure everyone has access to that in the county too, especially out on the rural areas where there are fewer services but more land available. Rural disadvantage is a real issue. I want to see what we've done here in Cambridge spread across the county.
Next year, I'm particularly keen to see how we develop the food hubs. We are moving out of the emergency phase, and we want to be developing them into longer term propositions. We're looking into produce swaps, growing projects – all sorts. Rather than just handing out food, it needs to be more than that – longer term that's not going to help people.
Thanks again to Cllr Collis for their generous time and advocacy.
You can read Cllr Collis' speech on the Glasgow Declaration to the council here.
Read the Glasgow Declaration here.