Food Ladders are community scale interventions aimed at building local level resilience in the face of food insecurity. The approach is intended to complement national level campaigns.
Specifically Food Ladders advocates for:
Mobilising the more than nutrient, calorie and commercial aspects of food, such as its capacity to bring people together to foster shared understanding and collaboration;
Creating safe and inclusive spaces for experimentation and interaction with food;
Using a positive language of empowerment around food;
Building place-specific levels of support that enable the recognition and enhancement of locally based skills and assets to create transformations in communities.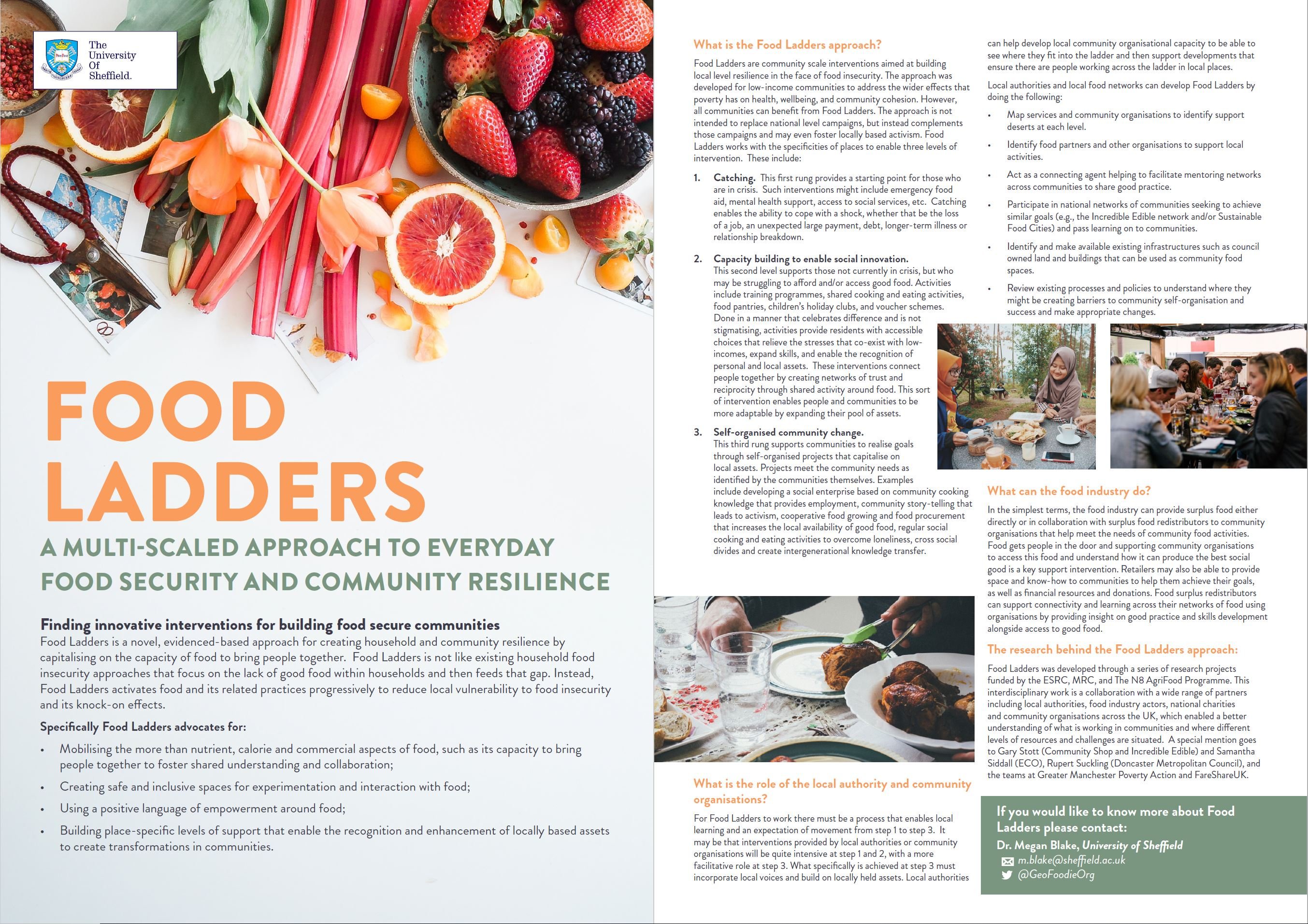 Food Ladders works with the specific characteristics of places to enable three levels of intervention.
These are:

1. Catching. This first rung provides a starting point for those who are in crisis. Such interventions might include emergency food aid, mental health support, access to social services, etc.

2. Capacity building to enable change. This second rung supports those not currently in crisis, but who may be struggling to afford and/or access good food. Activities include shared cooking and eating activities, food pantries and children's holiday clubs. This sort of intervention enables people and communities to be more adaptable by expanding what they can bring to the table to make change.

3. Self-organised community change. This third rung supports communities to realise goals through self-organised projects that capitalise on what is good in communities. Examples include developing a social enterprise based on community cooking knowledge that provides employment, cooperative food growing and food procurement that increases the local availability of good food.

Read the full report here.

If you would like to know more about Food Ladders please contact: Dr. Megan Blake, University of Sheffield, email: m.blake@sheffield.ac.uk or Twitter: @GeoFoodieOrg