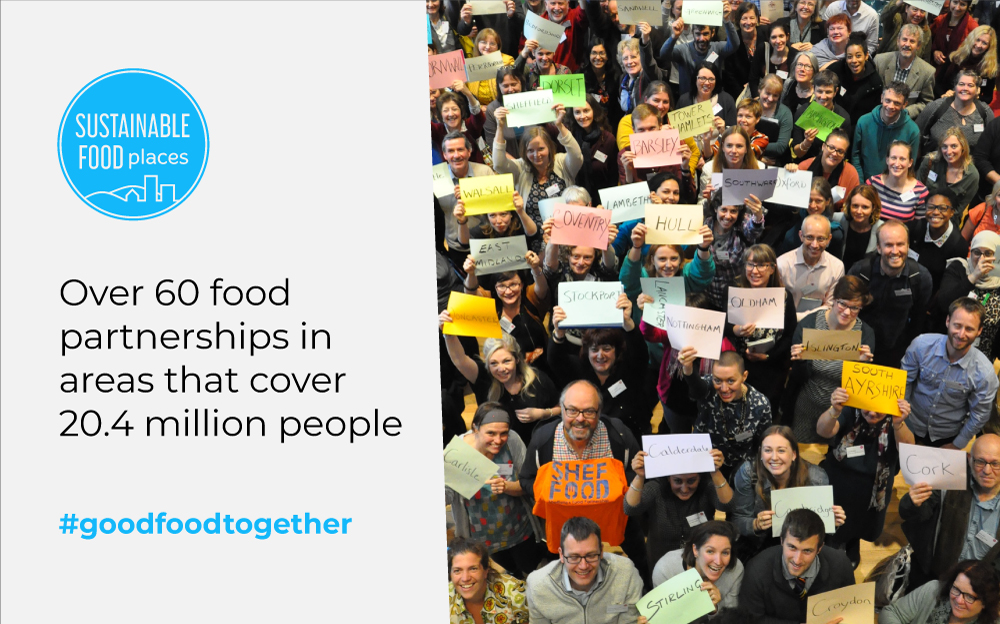 Today, Sustainable Food Places and its network of 60 local food partnerships, supported by over 30 food and farming organisations, academics and experts, wrote to the Secretary of State for Housing, Communities and Local Government Robert Jenrick. The letter asks Government to recognise the vital work of local food partnerships during Covid-19 and to support one food partnership in every local area in the UK.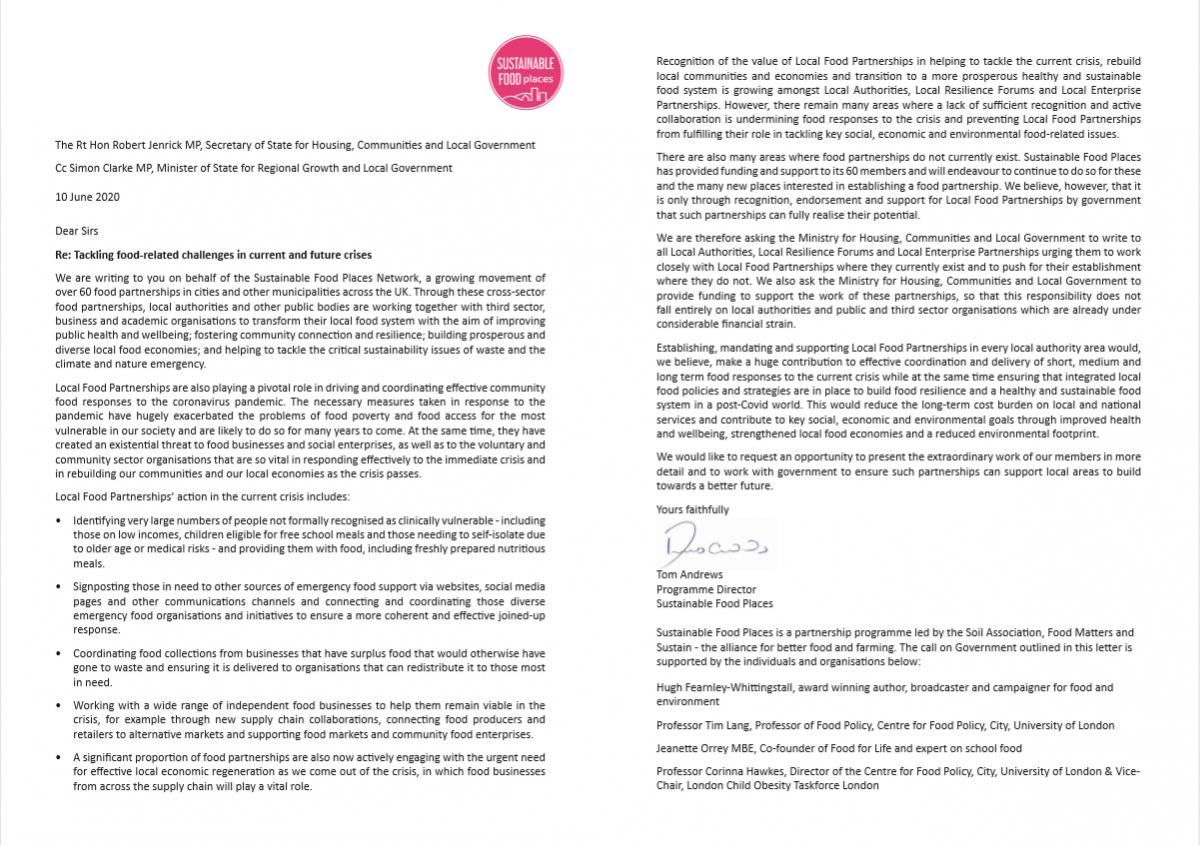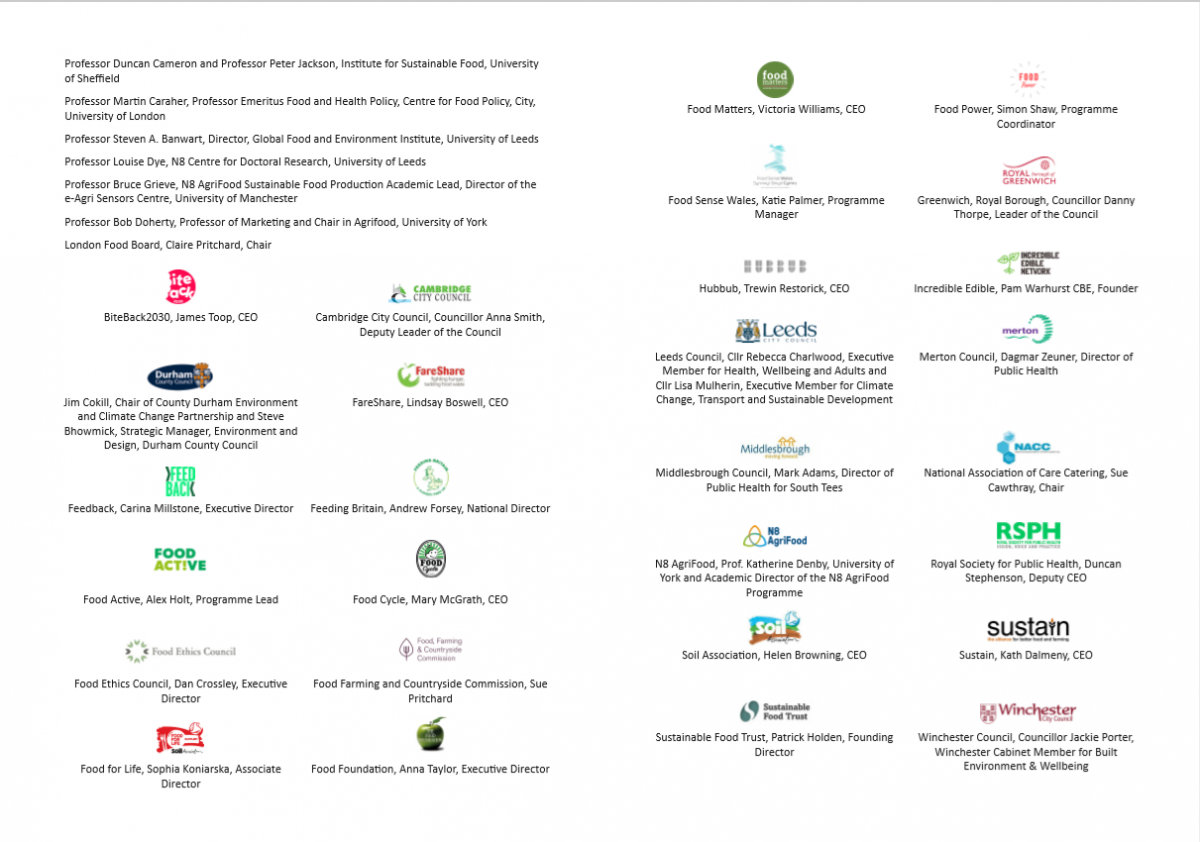 Download the full letter here.
This direct appeal to Government is part of the Sustainable Food Places Day of Celebration and Action which also includes members contacting their MPs to highlight their local efforts and a celebration of the vital role of food partnerships happening on twitter under #goodfoodtogether #foodpartnership.
If you are part of, or have worked with, a local food partnership, we are asking you to share what you're most proud of in working to create a better food system for everyone in these challenging times. Post on social media one thing you are really proud of about your local food partnership's work. Use the hashtags #goodfoodtogether #foodpartnership and tag @FoodCities, @MHCLG, @RobertJenrick, your local food partnership and local authority to spread the word on social media and help increase our reach.
If you are not part of a local food partnership, sign up to our newsletter and get in touch to find out how your local area can join.
While the government was quick to identify 2.2 million clinically vulnerable people as eligible for food parcel deliveries, thousands of low-income Britons fell through the cracks and soon found that emergency responses had left them behind. Empty supermarket shelves, food shortages and oversubscribed online delivery services soon compounded the isolation, until their neighbours stepped in. Communities, councils and local businesses came together to ensure continued supply of healthy, local food to those most in need. Community responses have been a life-line for thousands of vulnerable Britons who continue to rely on these local networks.
But now that the lockdown is easing, Sustainable Food Places fears that support for emergency food systems currently in place - including local council responses and government food parcels - will progressively wane, while the demand for food from vulnerable people will remain and could even increase.
Tom Andrews, Programme Director at Sustainable Food Places, says: "The necessary measures taken in response to the pandemic have hugely exacerbated the problems of food poverty and food access for the most vulnerable in our society and are likely to do so for many years to come".
Sustainable Food Places is appealing directly to the Secretary of State for Housing, Communities and Local Government to recognise these efforts and write to all Local Authorities, Local Resilience Forums and Local Enterprise Partnerships urging them to work closely with local food partnerships where they currently exist and to push for their establishment where they do not. Sustainable Food Places also asks the Secretary of State to provide funding to support the work of these partnerships, so that this responsibility does not fall entirely on local authorities and public and third sector organisations which are already under considerable financial strain.
Tom Andrews comments: "Establishing, mandating and supporting local food partnerships in every municipal authority area would, we believe, make a huge contribution to effective coordination and delivery of short and medium term food responses to the current crisis, while at the same time ensuring that integrated local food policies and strategies are in place to build food resilience and a healthy and sustainable food system in a post-Covid world."