Written by Vera Zakharov & Bella Driessen
We can't live on crumbs alone. According to the latest figures from the Institute for Public Policy Research, the UK is facing a £500 billion deficit in government and private investment over recent decades, trailing 27th out of 30 of the world's wealthiest countries. The result is clear as the economy, public and third sector services, public health and communities are stifled.
Meanwhile, the Sustainable Food Places network has been diligently cooking up positive change for many years, starting, as all good things, in a few modest corners. 10 years ago, there were a handful of pioneering places in the network, with big ideas and modest budgets. And now it's grown to over 90 food partnerships – nearly a quarter of UK local authorities - who continue to lead innovative work in the food system by connecting up council, third sector, business and grassroots actors to do their bit to ensure everyone has access to healthy, sustainable, affordable food. Food partnerships are skilled at bringing stakeholders together and delivering manifold benefits to local communities, economies and ecologies. But local action alone cannot transform the UK's food system. It is up to political leaders to standardise best practice through cohesive national food strategies and commitments to invest in local solutions.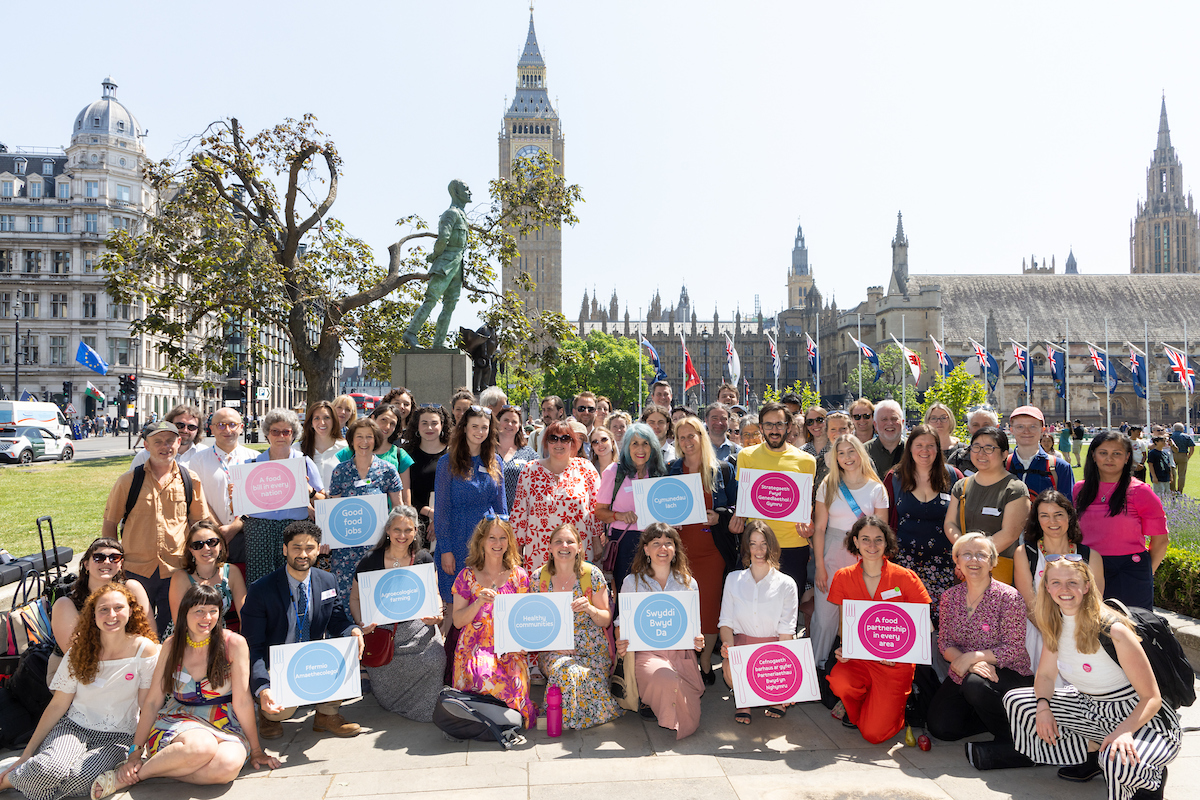 Our Sustainable Food Place Coordinators come together in Westminster
The potluck effect
At this year's annual Day of Action at Portcullis House, Westminster, the focus was on investing in a better food future – how food partnerships are leading the charge. Read our Briefing and main policy calls here.
Sustain's Chief Executive Kath Dalmeny kicked off the event, declaring the network as a "place of possibilities". Like a potluck where everyone contributes something small, thereby creating a sumptuous feast, the network thrives on a sense of connection, community, and wealth: real wealth built on good food supply, healthy communities, rich soil, flourishing ecosystems, clean water, and good food jobs. Leicestershire, Falkirk, Bury and Cardiff food partnerships speaking at the event exemplify this community wealth, showing that their success in establishing well-funded and effective programmes has been largely down to the vision and will to pilot new approaches, and to the way members help each other along, sharing best practice and lessons along their journeys of improving the food system from the ground up.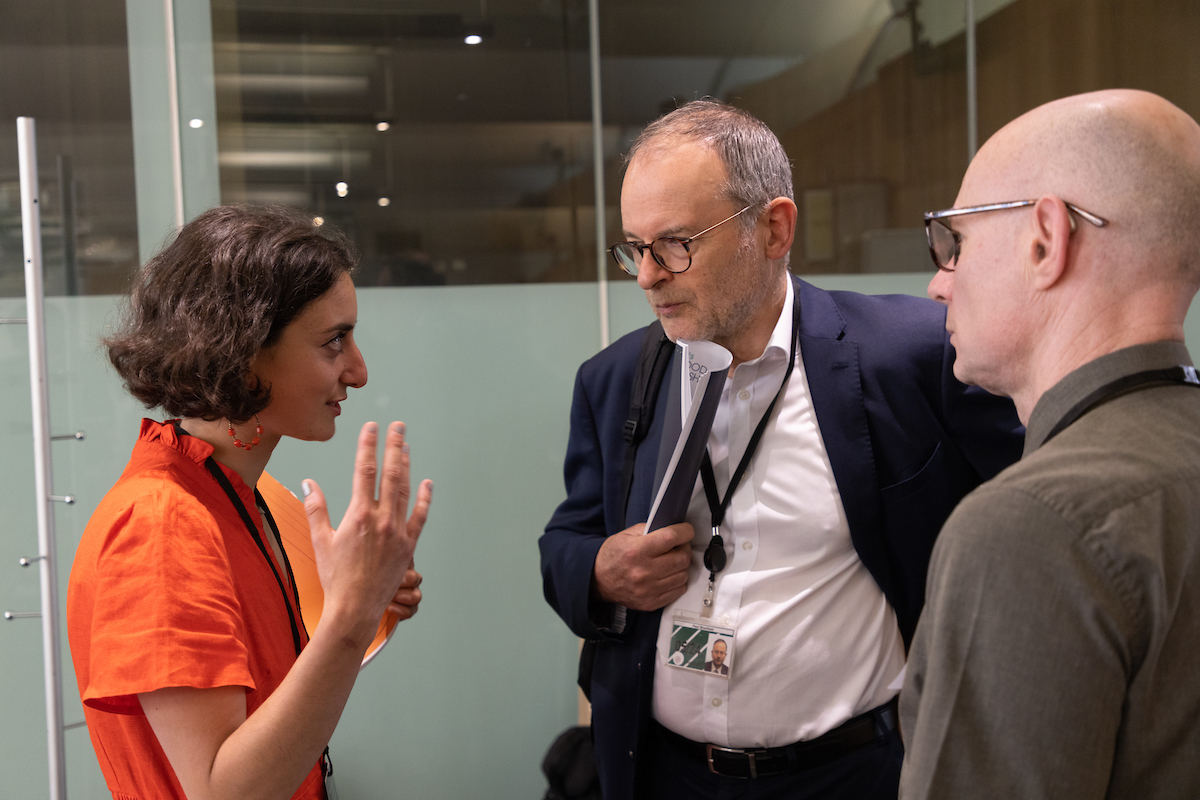 Selina Treuherz (Sustainable Food Place Coordinator for Sheffield) meets with her Labour MP Paul Bloomfield
The edible is political
Kath reminded attendees that, whilst the SFP network's amazing local heroes deserve recognition, what they need – and the reason we all assembled in Westminster – are the policies, the funding and the infrastructure that can support their work to build a resilient, sustainable and fair food system. Scotland has taken a first step, leading with their Good Food Nation Bill, and Wales has committed to fund development of a food partnership in every Welsh local authority. Now other nations must learn from each other and follow suit.
The roster of MPs taking the stand to share their vision of a better food future showed that a well-supported food system led by community innovation is not a party-political matter. Patricia Gibson MP, SNP spokesperson for Environment, Farming, Agriculture and Rural Affairs, took to the stage to share her hope that other nations will take inspiration from the Scottish Good Food Nation Act to put in place the policies we need to support this work. She said:
"Scotland's Good Food Nation Bill requires all local authorities to produce a local food strategy that supports local producers and there's no doubt that food partnerships will be a critical part of this process. It's time for Westminster to follow Scotland's example."
Both Daniel Zeichner MP, Labour's Shadow Minister for Food, Farming and Fisheries, and event host Flick Drummond, Conservative MP for Meon Valley, described the power of local communities in tackling the multiple crises of food inflation, the cost of living, and climate change, thanking food partnerships for their work and championing the wider movement.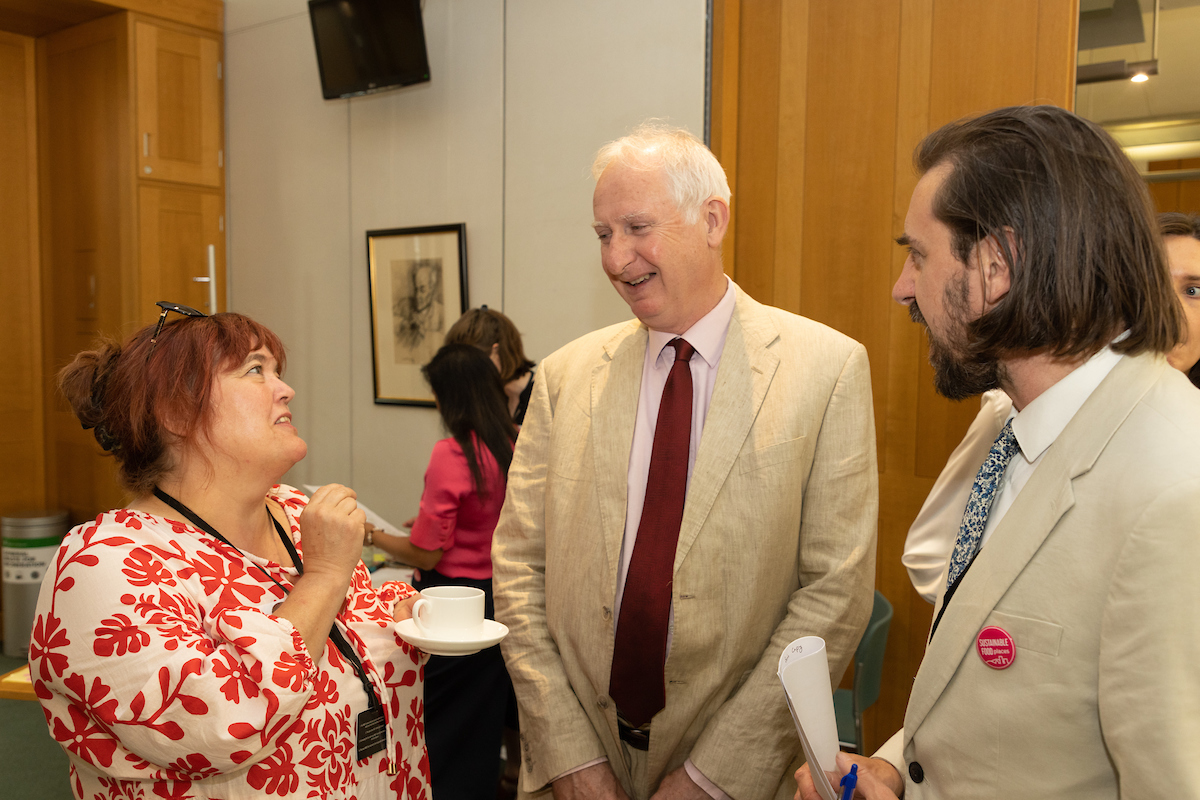 Shadow Minister for the Environment, Food & Riral Affairs Daniel Zeichner meets Sustainbale Food Place Coordinator for Cambridge Sam Dyer
The main course
48 MPs in all attended on the day – a feat for any food and farming organisation. But while there were many famous political names in the room, the real star power of the Day of Celebration and Action were the food partnerships, attracting their local representatives to attend and support their brilliant local work. Food partnerships from England, Scotland and Wales, offered inspirational stories, highlighting their work to attract funding to their local communities, and their role in strengthening local food economies. Here's a taster:
BeanMeals, Leicestershire. Gavin Fletcher, Leicestershire's Food Partnership Coordinator, described how a £10,000 pilot to grow and establish a local supply chain for beans ideally suited for growing in the region led to securing £2.2 million of UKRI funding for a research project in partnership with multiple universities. They are now delivering healthy pulse-based meals using UK grown beans in six schools across Leicester and Leicestershire, where they are tracking the health impacts and providing education for children about the beans – turning them into bean enthusiasts! Their plan going forward is to make stronger links between production and procurement through retailers, caterers and public procurement, and to work with farmers to shorten supply chain.
Falkirk Food Futures. Emily Harvey, Development Manager at Forth Environment Link, described how they, along with partners, secured £798,000 from both the UK Government Community Renewal Fund and the UK Shared Prosperity Funding to deliver the Falkirk Food Futures programme (FFFP). Through direct grant giving, training, networking, mental health support, digital support and food partnership development, FFFP has supported the legacy, and the continued work of the community food sector as it emerged from the pandemic. Their support has injected £1.8 million into the local community food sector – a return of £2.25 for every pound of investment.
Bury Market. David Catterall, Director of Commercial Services at Bury Council and a member of the Bury Food Partnership, described Bury Market – voted Britain's favourite market – as a cornerstone of the local community. In 2021, Bury secured £20 million of Levelling Up funding. They used this to upgrade the market, to bring in new traders, host more events, improve recycling and packaging, and increase local and seasonal veg. On top of this, the local food partnership acquired funding to raise the profile of the Healthy Start Scheme throughout the market, to improve community access to local, fresh produce, support local producers, improve footfall into the market, and increase the economic growth of the market and the town.
Food Sense Wales: Building a Good Food Movement. Wales is going from strength to strength, and the Sustainable Food Places network has grown enormously thanks to significant financial support from the Welsh government for food partnerships right across Wales. Pearl Costello, Partnership Coordinator for Food Cardiff, described their project to get more agroecological, locally grown vegetables onto kid's plates though school meals and holiday enrichment programmes. In 2022, they sourced one tonne of courgettes into summer activity and food meals, alongside delivering educational sessions on locally produced food and healthy eating. This year they are expanding the pilot to provide a range of vegetables into school catering. If replicated across the nation, this approach can generate around £16 million for agroecological growers in Wales and improve the resilience of the food system.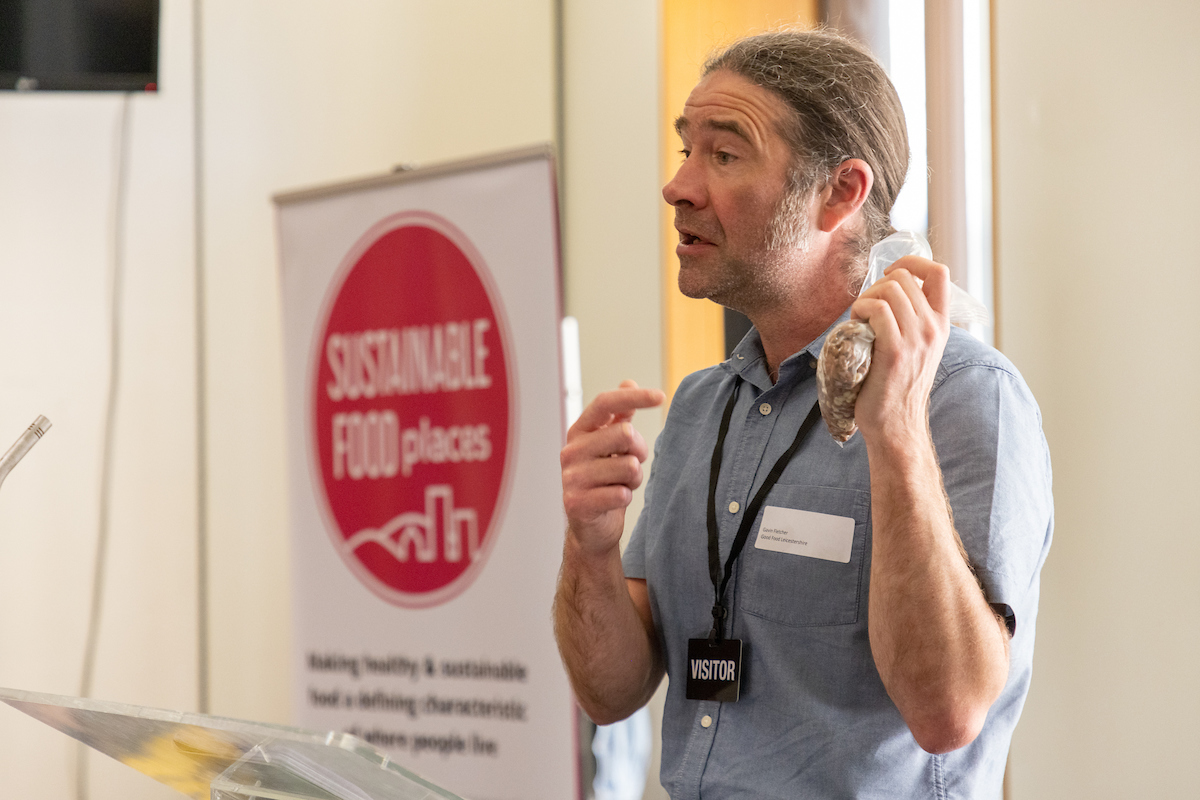 Gavin Fletcher of Sustainable Food Place Leicestershire presents his work on BeanMeals
Everyday staples
Leon Ballin, Sustainable Food Places Programme Manager, described the important role food partnerships played during the covid pandemic, and have continued to play through the cost-of-living crisis: providing not just an emergency response but taking a cross-sectoral approach to transform the food system as a whole. They have proven themselves to be essential local infrastructure. Network members have been doing great work because of and in spite of a lack of a coordinated national food policy. However, without a national, long-term approach offering a policy footing, we can't sustain nor accelerate the changes we need. Food partnerships are a staple of their local areas – and it's time for policymakers to recognise their power and ensure every area has one.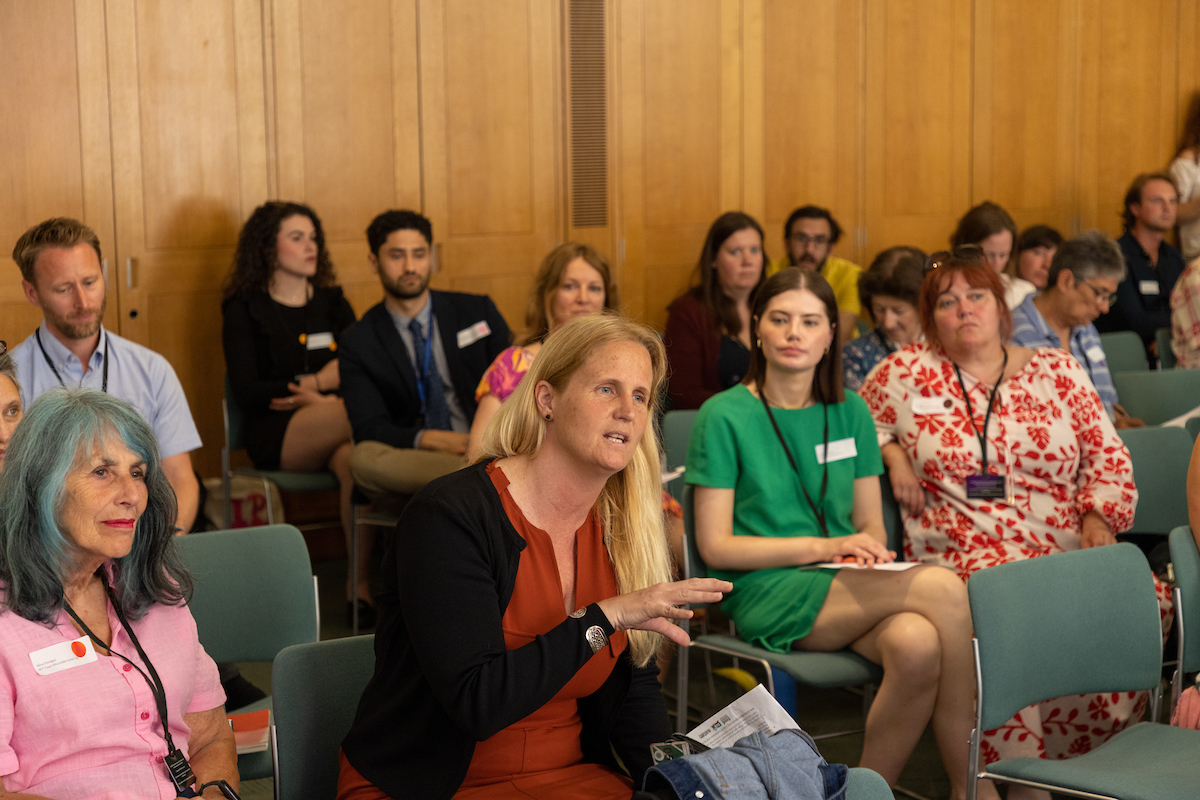 Labour MP Beth Winter asks the Food Partnership panel questions about their work and what policies they need to be supported.
A menu for change
Throughout the event, food partnership coordinators took the opportunity to connect with their local MPs and discuss how they can work together to help their communities prosper through healthy, sustainable food – be it more good food jobs, thriving rural communities, well fed, healthy and happy children or a vibrant local culture where food is celebrated and gives a pride of place.
Central to discussions was the Sustainable Food Places menu of policy calls, which the network is asking MPs to champion within their parties and ensure they are part of political visions as we near the next General Election. These include:
A food partnership in every local authority, alongside a food strategy endorsed by the council.
A Good Food Bill in every nation (already in place in Scotland), underpinned by an independent body to champion action and scrutinise progress.
Support for farmers to transition to agroecological farming and better routes to market.
Structural funds to be invested in local, sustainable food infrastructure and skills.
Use existing public food procurement to support local farmers and food suppliers.
See child health and food access as an investment in the country's future; expand free school meals, healthy start and school fruit and vegetable schemes.
Better decision-making powers for devolved governments to focus farming, economic and infrastructure investment where it can make the most impact on local economies and community wellbeing.
Read our MP Briefing: Investing in a Better Food Future in full.