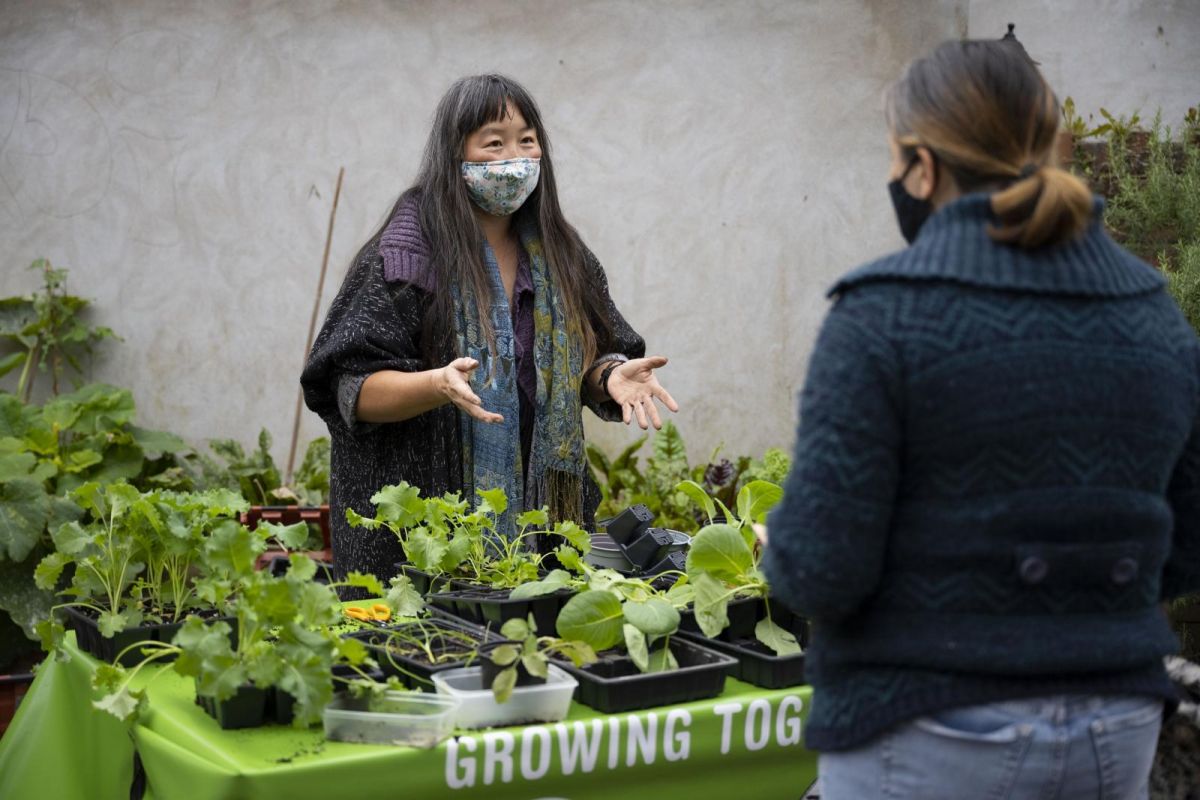 Despite the new found interest in locally produced food, cooking at home or the mad scramble for seeds and compost, it became quickly evident during the pandemic that for those on low incomes or not able to access free school meals or fruit and vegetables, consumption of vegetables dipped below already existing low levels. Funding for Veg Cities was able to be adapted to respond to these growing inequalities alongside planned activity.
Collectively, since the start of the campaign, Veg Cities activity has resulted in:
9.5 million additional portions of veg served every year
650,000 people involved in the campaign
18,000 people trained in growing and cooking
32 new veg stands
21 food growing networks and hundreds of gardens supported
380 initiatives to measure and reduce food waste
Growing our own food
Some highlights include a rapid response in Cardiff to support people to grow food at home, resulting in a team of 70 volunteers across 16 projects distributing around 14,000 plants, seeds and growing kits to over 3,000 households and more than 100 people joining online growing classes. Thousands of people took part in the first Good Food Cardiff Autumn Festival, a programme of physically-distanced and virtual events about growing, cooking and sharing food to tackle two major issues which have been exacerbated by Covid-19 - food insecurity and isolation.
In Aberdeen, growing packs were delivered to households alongside materials for gardening activities for children as part of the holiday 'Food and Fun' programme. Similarly the Keep Growing initiative in Tower Hamlets supplied 700 people in the borough starter packs with everything needed to start growing vegetables at home and five tonnes of soil to key points around the borough for participants to use. This was followed with Growers' Question Time sessions on zoom and cooking webinars in the Autumn.
Growing vegetables to donate to community projects became a focus for many organisations involved in the campaign. One example is the Auckland Project in County Durham; they manage a historic visitor attraction in Bishop Auckland and repurposed their large walled garden from producing for their restaurant to grow vegetables which were distributed to local community food projects. Between July and December 2020, they distributed over 8 tonnes of veg.
Veg Cities gold
In Brighton and Hove, Veg Cities was an area of exceptional achievement in their Sustainable Food Places Gold Award. A three-year citywide action plan was developed locally with the main aim of reducing the inequalities that exist: fewer than 50% of eight to 11-year-old pupils from the most deprived areas eat their five-a-day compared with over 90% in the least deprived areas. Work continued through the pandemic to ensure fresh vegetables were included within emergency food parcels and into hot meals going out to those shielding and isolating, as well as encouraging people to grow their own and support projects growing more to donate.
Collective effort
For more highlights, visit the local pages in our Veg Cities website.
National activity
At the national level, the SFP team was involved in calling for the reinstatement of the School Fruit and Vegetables Scheme when it was suspended during the first lockdown. We celebrated after it was finally re-instated in July 2020 and continue to advocate for an expansion to all children in primary school and more local, seasonal and environmentally-friendly produce going into the scheme.
We joined forces with Sugar Smart and launched a campaign action calling for increased investment in children's health in the Comprehensive Spending Review in the Autumn of 2020 through increasing and improving the School Fruit & Veg Scheme and ring-fencing the Sugar Drinks Industry Levy, alongside increasing Free School Meal & Holiday provision and increasing Healthy Start Vouchers which were also supported by a wide ranging coalition of civil society organisations spearheaded by footballer Marcus Rashford. We were jubilant when Government announced on the 8th of November a new £170M Covid Winter Grant Scheme, extension of the Holiday Activities and Food Programme and increase in the value of Healthy Start vouchers to £4.25.
Healthy Start continues to be a lifeline to help many families on low incomes buy milk, fruit and vegetables. We moderate an active discussion group on Healthy Start which has grew to over 200 subscribers from Public Health teams, food poverty alliances and food partnerships working locally to increase uptake. We collaborate with the Food Foundation to keep our calls for expanding the eligibility and visibility of the scheme live on the agenda of Ministers and MPs.
Over the past year our central capacity pivoted to supporting community gardens and local campaign coordinators to keep gardens growing during Covid. With the Sustain Capital Growth team, we organised two webinars, wrote a blog, compiled guidelines and notices for gardens and set up an email discussion group for community gardens. As a result, a number of gardens that were initially closed opened with social distance measures in place during the first lockdown. We cancelled the Good to Grow Day in 2020 but were back bigger and stronger in 2021. The number of food partnerships and other local partners using the Good to Grow platform to map their local community growing spaces more than doubled to 27 and almost 100 gardens organised face-to-face and online events during Good to Grow Day in April 2021. Access to land for food growing and the role of councils in supporting food growing initiatives is emerging as a priority area for many places and we will resource this area of work going forward.