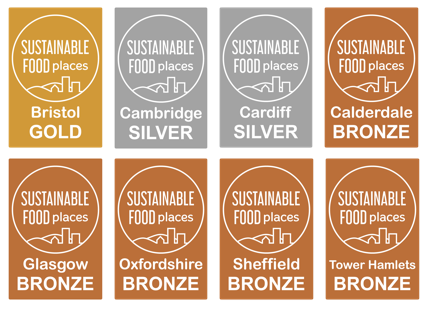 Good Food Champions
In the face of such immense challenges as Covid and climate change, we all need to feel inspired by those people who, despite everything, continue to drive positive change in their communities. For those of us working in the food world, one need look no further than this year's record number of SFP award winners.
Building momentum
Building on Brighton and Hove's fantastic achievement in becoming the UK's first SFP Gold city at the turn of the year, Bristol has now also been awarded gold for their groundbreaking work across all six key issues and particularly in tackling food waste and building a truly city-wide good food movement.
Hot on Brighton and Bristol's tails come Cardiff and Cambridge, who have both been awarded silver and whose work on everything from food poverty to procurement has set a new standard for good food. We are also delighted to announce five new bronze winners - Calderdale, Glasgow, Sheffield and Tower Hamlets, as well our first ever two-tier county award winner, Oxfordshire. Huge congratulations to all of you.
Read more about all of our award winners work here.
What you can do
The 'Developing a food strategy' theme of the SFP Toolkit – the blue section – contains resources to help you develop a sustainable food vision and strategy. In particular these resources will be useful:
Develop an action plan to deliver the food strategy in an inclusive, participatory and collaborative way through following suggestions in the Action planning guide and facilitating Action planning workshops
Guides & toolkits
Sustain's Food and Covid-19: How local authorities can support recovery and resilience report highlights three key areas that contribute to a strong local response: principles, processes and partnerships.
Local Policies
Bristol Food Policy Council secured strong references to food in the Health and Wellbeing Strategy. The HWB has a key strategic aim to use 'our combined influence and commissioning to support work to tackle obesity, nutritional deficiency and food poverty'. The Health and Wellbeing Strategy has 10 key priorities, one of which is food (page 5). The aim is 'to create a healthier, more sustainable, more resilient food system for the city to benefit the local economy and the environment'.
Local Government training session for food partnerships
16/01/2023 10:00 11:30