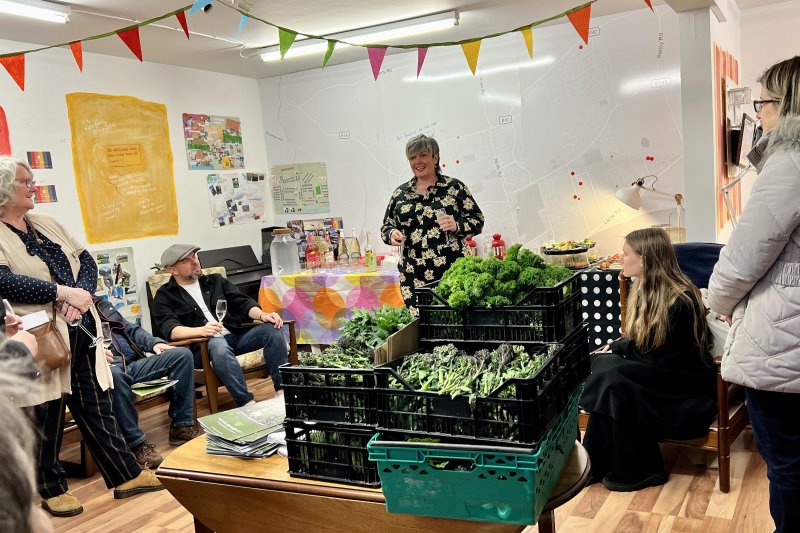 Our food system is facing many challenges - climate change, covid recovery, labour shortages, border and trade complexities caused by Brexit, supply chain issues and ever increasing costs. With rising food prices and limited access to healthy, nutritious food, many people are struggling to make ends meet. These issues have had a direct impact on the health and wellbeing of the people living in Northern Ireland, here we highlight a few of the organisations that have stepped up to find localised solutions.
With 1 in 14 households considered to be food insecure, businesses, producers, organisations, and community groups across Northern Ireland have risen to the challenge and implemented new initiatives to meet the needs of the community whilst also protecting the environment for future generations.
Sustainable Food Places enables local co-designed solution in Carrickfergus
Nourish NI is the national partner for Sustainable Food Places (SFP) in Northern Ireland. In 2019 we supported Mid and East Antrim Council in securing an SFP development grant to find out what were the key food issues in their borough and establish a food partnership that would work together to increase access to fresh affordable local produce. They adapted Nourish Scotland's table talks as a way to hear about the food issues that really mattered to local residents, and what they wanted to see in their community.
Positive Carrickfergus held kitchen table talks with their local community and one of the key concerns raised was a lack of access to fresh, seasonal produce in the centre of Carrickfergus. They have come up with a great solution - Carrickfergus Community Greengrocer is an exciting new community co-operative that opened its share offer on 1 April 2023. Supported by Co-op Alternatives, this refreshing approach to increasing access to local seasonal produce will provide delicious fresh food and employment to the local community. We can't wait for them to open their doors!
From food aid to food trade in East Belfast
The Larder Food Bank was originally set up in 2013 using the typical surplus redistribution model to provide emergency food in a time of crisis and help people get back on their feet after a difficult financial period. They found that they were increasingly supporting people on an ongoing basis who just didn't have enough money coming in to buy food.
A different approach was needed and emergency food handouts were stopped. Options to move away from food aid towards food trade were explored and the food bank has evolved into a community food hub using mutual aid to ensure that everyone in East Belfast has reliable access to healthy affordable food. By harnessing collective buying power and sourcing nutritious produce locally, residents are guaranteed weekly seasonal produce alongside wraparound support services where needed. This approach removes the stigma of food bank usage and ensures that the choice for healthy local food is accessible to people on a low income.
Building networks for shorter supply chains
The Growing Innovation Network is an Ashden Trust funded project, delivered by the Food Farming & Countryside Commission through a team of grassroots farmers in Northern Ireland. While many of the team have roles within the sector and in their communities, they are firstly farmers who understand the needs of farmers and want to make a change in the food system here.
The network is a peer-led network of local farmers who believe that agriculture can lead the way in tackling the food, climate, nature and health crises facing society. This farmer-led movement is focusing on working together, helping each other, sharing stories, ideas and knowledge to drive innovation. They are working to shorten supply chains to increase affordability and reach a broad range of consumers through a variety of market routes.
Looking ahead
This is a tiny snapshot of some of the forward-thinking initiatives and solutions being delivered in Northern Ireland, these and many others are excited to explore affordability issues further through Sustain's Bridging the Gap programme in the coming year and beyond.