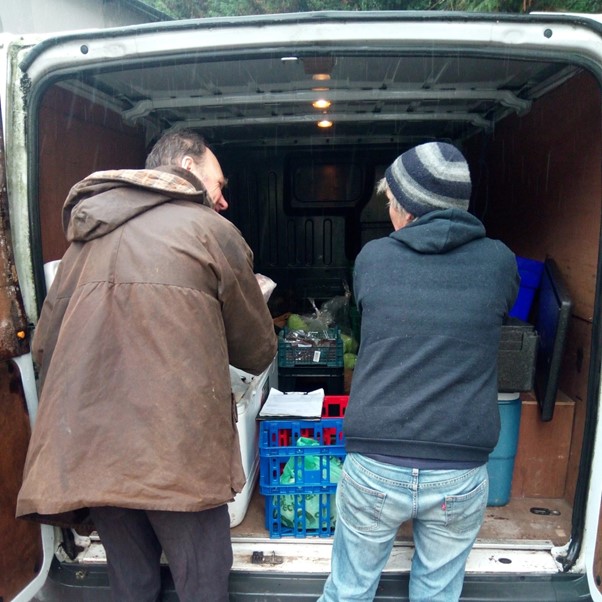 Original Article Written by the Lincolnshire Food Partnership.
Accessing Local Food
Lincolnshire produces a huge proportion of the nation's food.
But if we, as Lincolnshire residents, want to choose, buy or eat food that is produced in our county, we end up spending a lot of time, cost and journeys accessing it. I know this, because I have been doing it for the last decade!
Similarly, farmers and producers who want to serve their local community have a challenge, because they lack effective routes to local markets.
However, people care about where their food comes from!
Farmers markets are on the rise in Lincolnshire, and digital solutions that help people connect easily and directly with local producers are making food accessible in new ways.
One key tool for new food economies is the digital platform developed by Open Food Network.
The Open Food Network
The Open Food Network is a not-for-profit cooperative that exists to enable healthy and connected communities to build a more resilient and diverse secure food system that nourishes everybody and regenerates the planet.
They provide an open source e-commerce platform, tailored to community food enterprises and local producers, that is used in a host of different ways across the world.
One way that is particularly successful is in the Tamar Valley in Cornwall and Devon.
Food hubs on the Open Food Network serve their immediate community, and have now started trading with each other, through the Good Food Loop.
The Good Food Loop
The Good Food Loop van collects and delivers orders between the participating food hubs in the Tamar Valley, and delivers to wholesale customers (restaurants) en route.
The whole journey has no empty van miles. None.
The Good Food Loop has increased the range of local food that residents in the Tamar Valley can access, still with the convenience of a single payment and a single delivery or pick up.
Moreover, it increases the potential customer base for all the producers in the Tamar Valley region.
Working together, the collective work of OFN food hubs can accomplish much more for the region than any one of the hubs could do individually.
There's been a very positive response to events that we have hosted with both Duncan Catchpole (Cambridge Food Hub) and Nick Weir (Open Food Network).
But how to begin in Lincolnshire, what has been a decade or more in the making in other places?
I wanted to visit the hubs in Tamar Valley to get a deeper understanding of how it began, how it all works, and ask a ton of questions.
Three Food Hubs
I hitched a lift with the Good Food Loop van and visited all the points on the journey.
Here are three of the hubs, where I spent a bit more time over the course of a week. What surprised me was how different they are from each other.
This needn't have come as a surprise to me, since the Open Food Network is designed to foster diversity!
The Apricot Centre
The Apricot Centre is more – much more! – than a "producer food hub" on the Open Food Network.
Set up initially as an orchard by clinical psychologists who wanted a nature connected site for their child & adolescent therapeutic services, it has evolved into a complex, integrated and well established centre for agroecology and human flourishing.
The farm is designed on permaculture principles and is managed organically and biodynamically.
Today it provides training courses, permaculture consultancy, therapeutic services, as well as growing and direct-selling farm produce.
The Apricot Centre has recently started renting some glebe land, and are monitoring increases in soil carbon, for the church to offset some of the emissions that it can't eliminate, in line with its carbon neutral by 2030 targets.
Reclaim the Grain
The Apricot Centre is part of a non-commodity grain network, Dartington Mill.
Among their crops is YQ wheat, which is milled and baked at a bakery half a mile down the road -more about that here!
Being part of the Good Food Loop enables them to increase diversity in the contents of their veg bags and shop, as well as sell their produce to other hubs and wholesale customers on the Good Food Loop.
It works well and trade continues to grow steadily.
Tamar Grow Local
Similarly, there is FAR more to Tamar Grow Local than its food hub trading role as the Tamar Valley Food Hub – "an online farmers market"
Tamar Grow Local supports food producers and communities in a host of ways, including educational, community-building and commercial, for example:
Apple-juicing & honey producer cooperative
Farm start project – land and support for new entrants to farming
Grow-Share-Cook – seasonal veg bags, recipes, cooking workshops and other support to help people make improvements to their diets, funded by Plymouth City Council for its eighth year, due to its impressive impact.
Tamar Valley Food Hubs
The Tamar Valley Food Hub delivers a wide range of food to households in the area with no minimum order size.
Customers can also opt to collect their order from pick up points (where customers do not pay a delivery charge) – so it is very accessible for all kinds of customers.
There is a pay-it-forward option which enables the same top quality locally produced veg to be delivered to people who wouldn't otherwise be able to afford it, through referrals from local foodbanks.
There's no stigma, and the deliveries/collections are made in the same way as all the others.
The food hub fosters local food networks, encouraging nature-friendly farming and supporting ethical producers of different scales, from home-growers to large organic farms, and produce from a large wholefood cooperative.
Sustainable Fish
The most unusual participant on the Good Food Loop is Sole of Discretion – "a collective of small scale fishers, fishing out of Plymouth Harbour."
Sole of Discretion fillet, process and package fresh fish, and blast freeze any that is not sold within the day.
In addition to selling through Tamar Valley Food Hub via the Good Food Loop, the fish is sold directly to customers, and also to an organic veg box company.
Sole of Discretion procure only from boats under 10 metres, that are fully traceable, and that stick to ethical fishing practices that cause minimal marine damage.
For example, they do not engage in the common practice of discarding fish, but take the whole catch.
Being on the Good Food Loop allows customers to buy smaller quantities of fish than the minimum order that is needed to cover direct delivery (£65).
The Good Food Loop also supplies Sole of Discretion directly with local, organic herbs and potatoes which are used in their fishcakes.
They also told me about their next plan: to include a greater diversity of local food – thanks to the Good Food Loop – on the food stall at their premises, in addition to the day's catch.
What can Lincolnshire learn from Sole of Discretion – especially given that the fish processing centre of the UK is here in Grimsby?
The Success of the Good Food Loop
So each food hub on the Good Food Loop works differently, serving its own community – Sole of Discretion in Plymouth, the Apricot Centre in Dartington, Tamar Grow Local in Kelly Bray.
The Good Food Loop allows them to trade with each other, along with Shillingford Organic Farm, milk producers and other wholesale customers, such as restaurants with a commitment to good local food.
It all strengthens and reinforces the good food economy.
And it has been so successful that they will be adding a second weekly Good Food Loop collection/delivery round, enabling the inclusion of further food enterprises, and increasing the sales and distribution of existing ones.
I am because you are
What can we in Lincolnshire learn from the well developed local food ecosystems in the Tamar Valley?
I have pages and pages of notes, but the thing that stands out for me is the extent to which the many and diverse good food farms, businesses and organisations are mutually beneficial.
They retain their autonomy, without becoming mutually reliant, but their cooperative networks are good for businesses and the regional economy, as well as good for people and planet.
It is a model for sustainability and resilience at every level.
There's a resonance with the African concept of Ubuntu: I am because we are.
I have found the organisations that I visited in Tamar Valley inspiring, and am excited by the effectiveness of Open Food Network in connecting them across the region.
Our shared vision of fairer, greener, healthier food for all, is not only possible, it is already happening!
To learn more about the Lincolnshire Food Partnership - have a look at their website.