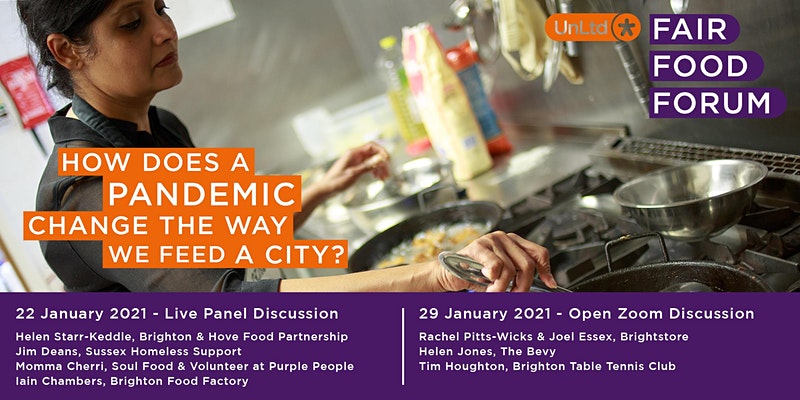 Brighton & Hove inspires "How has a pandemic changed the way we feed a city" event series of live stream panels and discussions.
About this Event
Throughout 2020, individuals and organisations across the country found new ways to ensure food reached those in need. In Brighton & Hove, this work led to it becoming the first Gold Sustainable Food Place in the UK, recognising pioneering work around good food.
From this, UnLtd, along with Isolation Station Hastings are hosting an event series, 'The Fair Food Forum - How does the pandemic change the way we feed a city?' which will bring together key figures in the community food sector to discuss the challenges and opportunities triggered by the pandemic, as well as the learnings we can take to improve food distribution in the future.
Each event will feature a live stream panel (on Facebook & YouTube), followed by a participatory event to showcase local ventures and create a space to share support and understanding.
The first part of this series takes place on Friday 22 January (livestream) followed by a participatory event on Friday 29 January (Zoom)
Friday 22 January (12:00 - 13:00)
Livestreamed interactive panel discussion with:
Helen Starr Keddle, Brighton & Hove Food Partnership
Jim Deans, Sussex Homeless Support
Momma Cherri, Soul Food and Volunteer at Purple People
Iain Chambers, Brighton Food Factory
Friday 29 January (11:00 - 12:30)
Online case studies and open discussion with:
Rachel Pitt-Wicks & Joel Essex, Brightstore
Helen Jones, The Bevy
Tim Houghton, Brighton Table Tennis Club
Please register here for either event and we look forward to welcoming you to the discussion.
Joining details will be sent closer to the event.