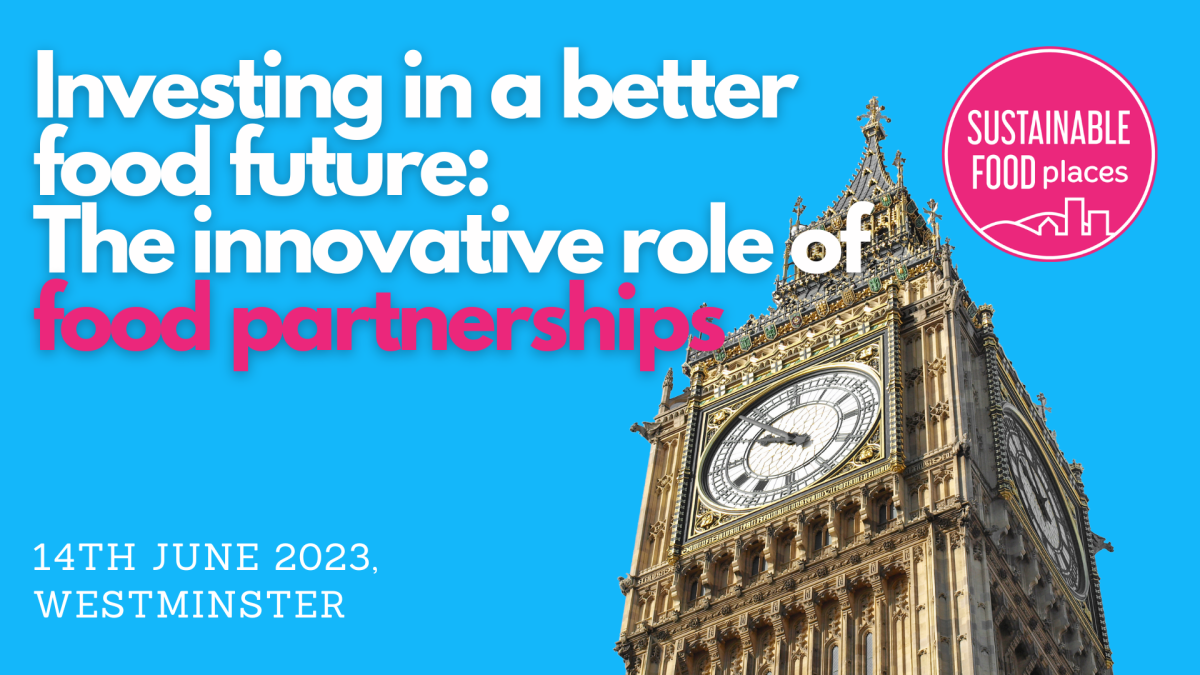 Invitation Only
Find our Comms Pack here.
On 14 June 2023, the Sustainable Food Places network will come together with parliamentarians in Westminster to chart national and local action towards a better food future. The event will shine a spotlight on the role food partnerships play in attracting investment in better food locally and delivering solutions to some of the most pressing issues in our food system, including long-term solutions to food insecurity and achieving fairness for farmers, producers, and workers across the supply chain.
The event will feature panels of inspiring speakers from SFP food partnerships alongside MPs championing a partnership approach to good food. There will be plenty of opportunities to connect with fellow SFP members and build stronger relationships with parliamentarians across the political spectrum who are passionate about healthy and sustainable food for all, and the need for a food partnership in every local area to make it happen.
Investing in communities
While stepping up to the frontlines to support their local areas through the pandemic and the cost-of-living crisis, food partnerships also work on long-term solutions to food insecurity, increasing resilience and capacity of local communities to transition from food aid to food trade, build better networks around food and food production, and foster local enterprise.
Investing in the local economy
Food partnerships are innovators and connectors, linking up local priorities around job and wealth creation, shorter supply chains, investment in local food infrastructure, and solutions to pressing issues such as the climate and nature emergency. Working in partnership with councils, business and third sector bodies, they can attract infrastructure and regeneration investment by making the case for their local communities and demonstrating the multiplier effect of investment with food at its heart.
Investing in a better food future
The Sustainable Food Places network has been and continues to be a hub for local leadership and trailblazing on healthy eating, climate- and nature-friendly food, local food economies and community-led movements around good food. Food partnership-led and supported initiatives have a track record of meaningful and long-lasting community benefits, reaching far and wide and embedding long-lasting change, whether through changing policy and provision, or creating a culture of community engagement and education around good food.