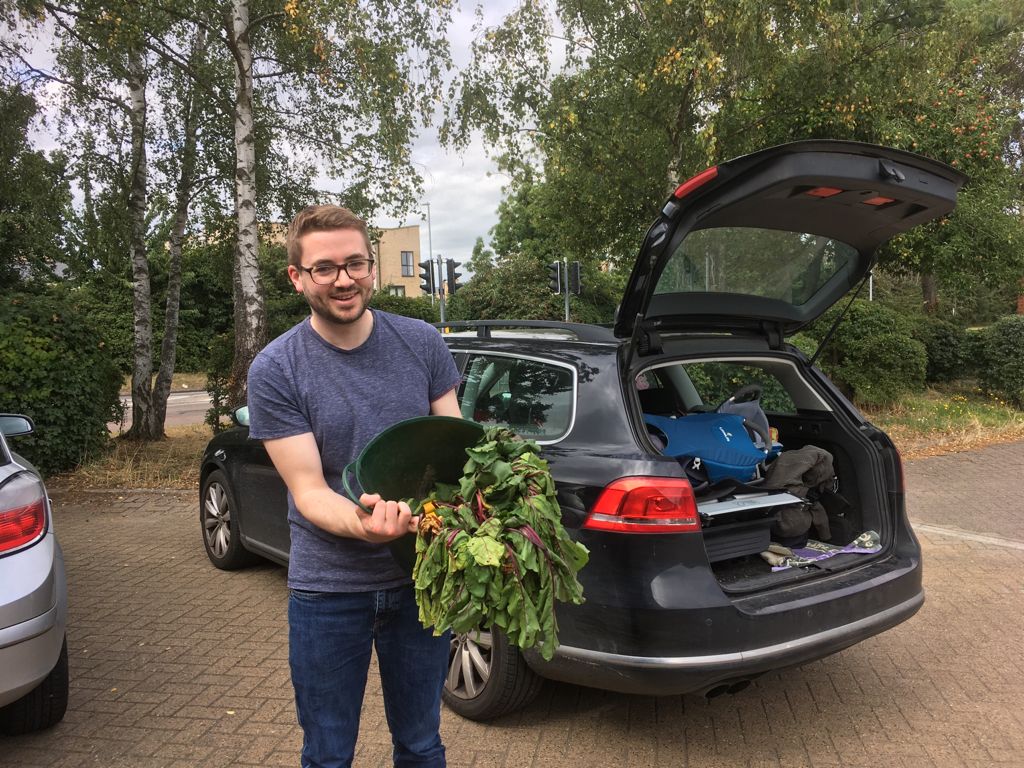 Credit: Cambridge Sustainable Food. Tom, teacher at Newham Croft Primary School with vegetables for donation
This case study illustrates both a dynamic response to the cost of living crisis in a challenging funding landscape and shortage of surplus food and working across the food system to move away from a narrative of food poverty.
Community food services across Cambridge are reporting increases in the numbers of people seeking help with food. There are reports of people resorting to stealing food, going without food to feed children and not being able to use cookers due to increases in fuel costs.
This is in a city that prides itself on its leading place in a global world and yet also holds the accolade for the most unequal city in the UK and Europe. Life expectancy difference between low income wards and wealthy wards is ten plus years. Surveys done with eight independent food hubs in areas of deprivation in the City found that 76 per cent of visitors said the rise in food and energy prices were making it difficult to afford food and to pay their bills.
Alex Collis, Cambridge City Council Deputy Leader (Statutory) and Executive Councillor for Open Spaces, Food Justice and Community Development said:
"People coming each week to Cambridge's food hubs are worried. They're worried about how they are going to manage in the coming months, as energy and food bills continue to rise, and the cost of living crisis gathers pace. People are frightened. They're too frightened to put their ovens on to cook the food that is donated each week. There were 21,210 visits to the food hubs last year and that number is going to go up, the big unknown is by how much. Cambridge City Council is committed to eradicating inequality in our City".
Coordination
The Food Poverty Alliance coordinates the strategy and delivery of food aid across the city includes 27 different organisations. It is coordinated by Cambridge Sustainable Food CIC and the food partnership for the city. The Alliance includes Cambridge City Council, Cambridge City Foodbank, FoodCycle, housing association CHS Group, Church of The Good Shepherd, Cambridge Community Ethnic Forum, Cambridge Mosque and Cambridge United Charitable Trust.
Cambridge has a system of eight food hubs spread across the city which received 21,200 visits in 2021/22 and a food distribution centre. Hubs have a direct line to Citizens Advice Bureau for referrals.
The pandemic strengthened local partnerships and the Food Poverty Alliance in the city has been better placed to deal with the cost of living crisis. Lessons learnt during covid are now better integrated into the local food system and there is more public, voluntary and community and cross sector working. For example, during the pandemic access to culturally diverse food was highlighted as an issue in the city, particularly what was available in the government food parcels. Cambridge Sustainable Food, Food Poverty Alliance members and the City Council worked with local groups such as the Cambridge Mosque and the local Bangladeshi community to ensure these boxes were supplemented with more appropriate food. This close working relationship has resulted in the Mosque and other groups joining the Food Poverty Alliance. These established and trusted relationships are better able to deal with the current crisis.
Meeting the new funding landscape and shortage of surplus food
Whilst there was a fantastic groundswell of support in response to the pandemic from funders, the landscape has changed dramatically post pandemic. Large national funding bodies such as The National Lottery switched all funding streams to covid related activities, other funders concentrated funds on the pandemic and private donations were, at times, large. Community organisations that rapidly expanded operations and budgets in response to this are now having to address contracted funding opportunities and the legacy is them responding to the cost of living crisis with dwindling funds and expanded core costs to budget for. Cambridge CVS report burnout and many CEO's of third sector organisations taking early retirement or leaving. In some cases the expansion and then contraction of these organisations has led to laying of staff, decreased hours or indeed taking on more work for less resources.
Sam Dyer MBE, CEO of Cambridge Sustainable Food and Director of Cambridge Sustainable Food CIC said:
"For Cambridge Sustainable Food, one of the main questions is how do we re-balance the work on emergency food with work across the food system. How do we strengthen the food system and supply chains whilst we lurch from crisis to crisis. How do we address the climate emergency whilst ensuring those in most need are fed?".
To meet shortages in surplus food and improve quality and sustainability of emergency food, Cambridge Sustainable is looking at other projects that draw in experience of, and from other parts of the food system. For example CoFarm, a farm set up during the pandemic which donated nearly all their produce to emergency food hubs during the pandemic is now working with the hubs and the food partnership to find an alternative economic model to enable fresh locally produced and seasonal food to reach people on low incomes at an affordable price. Cambridge has developed the 'Grow a Row' initiative, where allotments, community groups and others can grow extra and donate to food projects, which last year resulted in 1.5 tons donated produce. Lots of beneficiaries appreciate fresh produce, with the only issue being recognizing unusual vegetables grown through these projects. Cookery workshops such as ' unidentified item in the bagging area' or recipes included with produce start to address this.
Cambridge Sustainable Food also organised a city wide appeal to help front line community food services and projects buy ingredients and slow cookers for those in Cambridge hit hardest by the cost of living crisis. The campaign raised £24,000 with Cambridge City Council match funding £10,000 and a donation from the local Cambridge Business Improvement District this campaign raised funds to help frontline workers in 13 existing community food schemes.
Cambridge is a city that is committed to changing the narrative from food poverty to food justice and is working to achieve this through its Sustainable Food Places Gold award ambition. This work necessarily means working across the food system to achieve equality of access and the opportunity to participate in our food system.
Warm spaces
The City Council has four community spaces serving breakfasts and has funded an additional 38 warm spaces projects with £1,000 grants to pay for food. Even though small, grants of this magnitude with light reporting requirements go a long way.
'Cost of Living Roadshows' are also a new feature in low income areas of the city. They are one stop pop-ups providing advice on debt, support under the Household Support Fund, paying for utilities, Healthy Start Vouchers, etc.
National campaigning
Cambridge Sustainable Food, supported by over 30 local voluntary sector organisations and public bodies, have called on the Government to address the root causes of food inequality and presented a statement of concern to Shadow Minister for Environment, Food and Rural Affairs and MP for Cambridge Daniel Zeichner.
Contact:
Sam Dyer MBE, CEO and CIC Director, Cambridge Sustainable Food
sam@cambridgesustainablefood.org