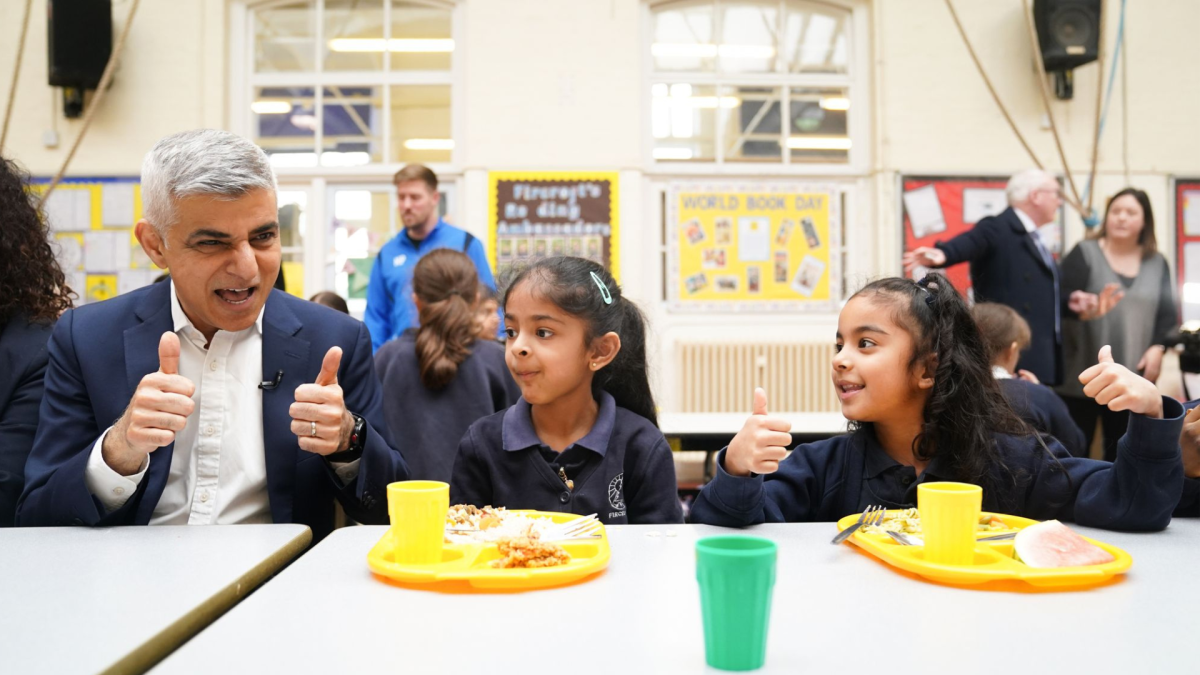 The Mayor of London, Sadiq Khan, has announced an historic £130m emergency scheme to help families with the spiralling cost of living by ensuring that every primary schoolchild in London will receive free school meals in the next academic year. This is one-off funding, from additional business rates income.
Sadiq Khan – who received free school meals as a child – has repeatedly called on the Government to make the meals available to all as research has shown that hundreds of thousands of schoolchildren live in poverty but do not receive them due to the restrictive eligibility criteria and lack of universal provision. Currently a household on universal credit must earn less than £7,400 a year (after tax and not including benefits), regardless of the number of children in the family, to be eligible. This means that many children from working families in poverty aren't entitled to free school meals.
Given the Government's inaction, and the soaring cost of living hitting London's families particularly hard, the Mayor has now proposed a plan to make the meals available – on a universal basis – to the capital's primary schoolchildren for one full school year.
As well as saving families hundreds of pounds per child, making free school meals available to all helps reduce the stigma that can be associated with being singled out as low income, therefore boosting take-up among families who need them most. The meals are also good for children's health as they may be the child's main source of hot, nutritious food. By ensuring they don't go hungry, children are better equipped to learn.
Four London boroughs have provided school meals to all primary school children for several years – Islington, Newham, Southwark, Tower Hamlets – and were recently joined by Westminster City Council, who committed to funding primary meals until July 2024. In Wales and Scotland, the devolved governments are committed to providing free school meals for all primary school children, as well as more generous breakfast provision but there's been no such commitment to offer the same opportunities to children in England.
The Sustainable Food Places programme supports a move towards Universal Free School Meals in every nation to avoid eligibility complexities, remove stigma associated with free school meals and ensure a nutritional safety net for every child in school, as part of our vision for a better food system. Through our Veg Cities campaign, we are supporting places in our network to increase uptake of free school meals in local schools and study feasibility of providing universal free school meals, as a core strategy to increase vegetable consumption among children.
Sustainable Food Places Programme Manager Leon Ballin welcomed the move:
"We welcome the announcement by the London Mayor at such a difficult time for so many families. The Greater London Authority has demonstrated they can be trailblazers when it comes to action on food and have achieved a Sustainable Food Places Silver award in 2017. We hope this announcement will inspire other combined authority mayors to take action on food in the context of the cost of living crisis. More importantly, Mayors should seek long term investment to tackle food insecurity and disparities, meet our climate and nature targets and drive economic growth."
On making this announcement during a visit at his old primary school, The Mayor of London, Sadiq Khan, said:
"I know from personal experience that free school meals are a lifeline. My siblings and I depended on them to eat while at school and my parents relied on them to give our family a little extra breathing room financially. The difference they can make to children who are at risk of going hungry – and to families who are struggling to make ends meet – is truly game-changing. That is why I'm so proud that City Hall is providing this funding which means all of London's primary school pupils will be able to get free school meals in the next academic year.
"I'm clear that no child should be punished for circumstances beyond their control. And yet the cost of living crisis means families and children across our city are in desperate need of additional support. I have repeatedly urged the Government to provide free school meals to help already stretched families, but my calls have fallen on deaf ears."
More information on action by the Greater London Authority on cost of living can be found on their cost of living hub. Or you can check statements from Sustain and Soil Association's Food for Life.