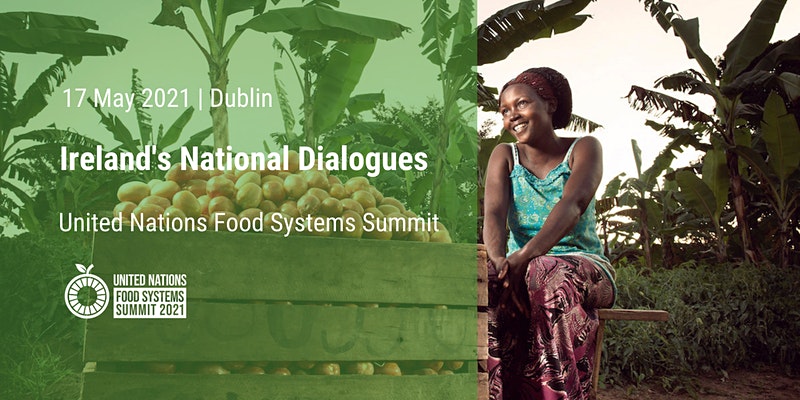 About this event
In September of this year, the United Nations Secretary-General will host a Food Systems Summit to highlight the potential of food systems to deliver a sustainable future for all people and the planet, and set out a framework of commitments and actions for all stakeholders to achieve sustainable food systems over the coming decade.
The Department of Agriculture, Food and the Marine is convening a series of four National Dialogues on Ireland's Food System as part of Ireland's engagement with the Summit. This series is in partnership with the RDS.
These Dialogues will coincide with the publication of Ireland's draft 2030 Agri-Food Strategy, which has been developed using a food systems approach. The Dialogues are designed to provide an opportunity for all stakeholders, from producers to consumers, to learn about their food system and contribute to its future sustainability.
This fourth National Dialogue will focus on Aligning Domestic and Foreign Policy towards Sustainable Food Systems. The Dialogue will be chaired by Mr. Ruairí de Búrca, Director General, Irish Aid, Department of Foreign Affairs, will open with keynotes by Dr. Susanna Moorehead, Chair Development Assistance Committee, OECD, and Jamie Morrison, Director, FAO, followed by two panel discussions to examine in more detail:
A. Sustainable Food Systems: Ireland's Role in Promoting Change Internationally
• Tom Arnold - Government of Ireland's Special Envoy on Food Systems
• Michelle Winthrop - Policy Director in the Development Cooperation and Africa Division in the Department of Foreign Affairs
• Owen Brennan - Chairman, Devenish
• Ousmane Badiane - Founder and Executive President, AKADEMIYA2063
B. From Policy to Practice: Understanding the Challenges and Opportunities
• Fionnuala Gilsenan- Ambassador to South Africa
• Caoimhe de Barra - CEO of Trócaire
• David Butler - Director of Sustainable Food Systems Ireland (SFSI)
• Charlie Spillane - Professor, Ryan Institute NUI Galway and Chair Irish Forum for International Agricultural Development (IFIAD)
Further details on Ireland's National Food System Dialogues can be found at www.gov.ie/foodsystems