"What makes you feel like part of a community?"
"Well - things like this!"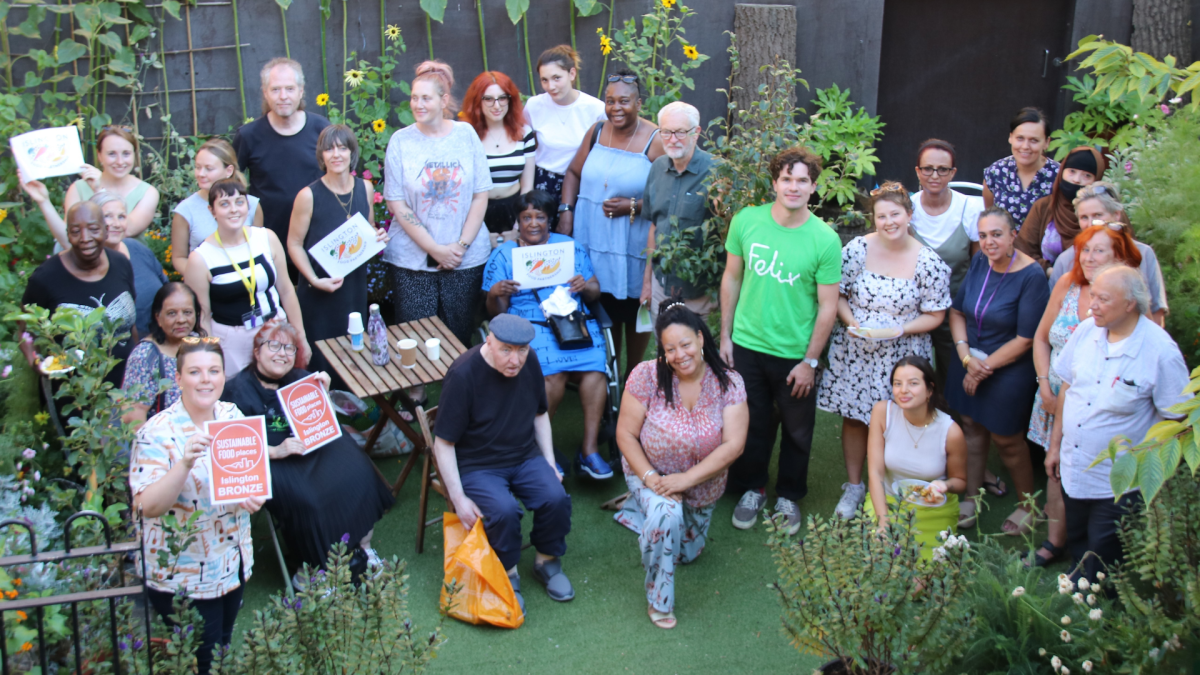 Since forming in January 2020, the Islington Food Partnership has largely been made up of VCS sector and council professionals. This year, with in-person events being possible again and with the partnership writing a new 5 year food strategy, they wanted to engage with more residents and find ways of adapting the partnership's work so that grassroots groups can be more actively involved and supported.
Shared meals and a shared vision
Between June and November 2022, IFP hosted 6 engagement events across Islington, as part of their Feed into Islington series. Five of these were community conversations and the sixth was the launch of the food partnership's new food activists' network. Each event had a community meal at the centre. The community conversations covered motivations to get involved, building community, identifying key food issues, visions of what food justice means and concrete ideas for how they collectively can transform food in Islington. The activist launch was a co-learning session where groups shared their successes and challenges, as well as their requests and offers of support.
These events came about as part of IFP's work to develop a new 5 year food strategy. One of the key areas of this is supporting community-led action and building the borough's local food movement. Thus IFP wanted to create opportunities for local people to directly shape it and ensure that the initial ideas were resonating with them. Conducting this engagement work through in-person events allowed for more in-depth conversations and to be more creative with the activities they designed.
The venues
The events were all hosted at community centres who are themselves members of the partnership, so as well as being an opportunity to promote the partnership, IFP were able to showcase the individual member organisations. These were: Elizabeth House Community Centre, The Margins Project at Union Chapel, St Luke's Community Centre, Manor Gardens Welfare Trust and Brickworks Community Centre. All of these spaces regularly host community meal events, food support and wellbeing activities. The delicious meals shared were prepared by local community cooks and by a local restaurant, Bisha Eritrean.
The participants
One of the events was aimed at those professionally connected with food issues and was attended by those working in community centres, charities, public health, council departments such as planning, councilors, housing association staff, and some businesses.
The other events saw a mixture of existing community centre clients and people who had come along specifically for the events (2 of the events were hosted during the centres' regular community meal time). Families also took part, with children joining the conversations. Council staff (who are not already members of the partnership) were present at most of the events, and one was attended by MP Jeremy Corbyn.
One of the events was hosted with the Margins Project - a drop in service and community meal for people experiencing homelessness. By hosting one of the events there – with around 60 people attending – the coordinators were able to have many valuable conversations with people experiencing food in Islington from the perspective of being homeless, and collect ideas they had on how to improve food access and experiences.
IFP tested out a Dragon's Den-style style participatory budgeting activity at both the professionals-focused event and the Margins Project community engagement event, we tested a dragons' den style. It worked well and got people imagining community food projects they would build if they had the funding.
The activist network launch event was attended by community centre staff, a residents group looking to set up a coop, a local community organiser, residents interested in getting involved in projects and community garden volunteers.
The outcomes
Overall, the main benefit was the insight and engagement we gained for the food partnership's future work. People were very engaged and came up with great ideas for events and projects. The food partnership had about a dozen people sign up to be on their mailing list. The conversations also helped create momentum for the food activists' network and – hopefully - for the launch of IFP's new food strategy in 2023. The coordinators promoted the activist networ launch at the other community meals, which proved to be a great way to open up conversations with people about what food activism really means and the many forms it can take.
The events helped inform how IFP communicates their work to the public and the concept of a food movement (this was also developed through IFP's work with an external consultant Liam Bates, whose time and expertise were also funded by the GFM grant). The events also allowed council staff to speak directly with people and help inform their work, future community consultations and council motions.
The network of food activists (currently 10 members) is now communicating via WhatsApp and planning to meet every few months.
Coordination and resources involved
The GFM funding covered 3 hours per week for Candice George, the Food Partnership Coordinator, with added capacity from existing IFP funding. She led on organising and designing the events, with support from the members of the coordinating group. She organised the launch of the food activists' network in partnership with Rosie Apperley, coordinator at Islington's Octopus Community Network. Candice produced resources for the events (e.g. leaflets) that explained what is meant by a food movement and how people can get involved, as well as prompt cards. Chair Alex Britten had designed templates for the participatory budgeting-style activity.
The rest of the funding was spent on the events themselves, as well as hiring a communications consultant, Liam Bush, who specialises in creative copywriting, brand development and art direction and who has previously worked on community group campaigns. His expertise helped IFP to understand their brand values, to shape the tone of voice and informing the ways they communicate our purpose, values and activities to the public.
Challenges and learnings
Two of the events were held at existing weekly community meals, so there was a balance to navigate around allowing people to still have a relaxed meal, without pressure to join in, but also creating opportunities for people to delve deeper into discussions and ideas.
Over the course of these events, IFP learnt that people had a huge amount to say and that, if anything, they stayed a bit too surface-level with the conversation prompts in the first event. Equally though, they learnt the benefit (when going into an existing community space) of having time beforehand to chat and get to know each other as a warm up for the later discussions. One thing the coordinator might do differently in the future is to look to create capacity for co-facilitation.
The original food activists launch event had to be postponed the first time around. This ultimately worked in their favour as it was great to be able to promote the rescheduled event at the community conversations and discuss the many forms food activism can take.