A new report, 'The Value of Veg in Eastbourne: Recommendations from Eastbourne communities for better food futures' has been published by Eastbourne Food Partnership, and made it all the way to their local MP.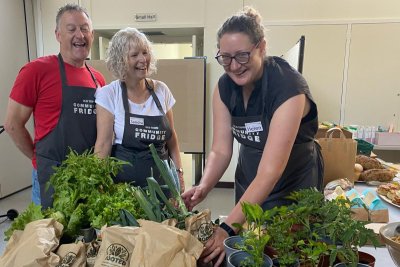 The team at Old Town Community Fridge are delighted to receive produce directly from Rooted Community Food's allotment, which aims to provide 1 tonne of produce to community food projects across the town.
Eastbourne Food Partnership have published a new report, The Value of Veg, as part of their Veg Cities campaign to increase the production and consumption of veg in their town. It draws on research conducted by the partnership, as well as insights from their network of community actors, who are experts by experience in the opportunities and barriers to building happier, healthier and more resilient communities through the power of veg.
"The 'Value of Veg' report outlines the benefits to the well-being and community cohesion that come with opportunities to grow, cook and eat veg. This report is an important calling-card for organisations across Eastbourne to get involved in the Veg Cities Eastbourne campaign and work together to ensure everyone across the borough has access to veg." – Sofia Parente, Head of Local Action, Sustain
The partnership used Good to Grow Day, a weekend of celebration in community gardens, as a rallying point to conduct interviews with community growers in situ. They then built on this with further interviews and focus groups. Moving forward, they want to embed this community research into their functioning as a partnership, to make sure that their priorities respond to the communities they work with.
So, what did they find?
There is demand for locally grown veg and the space to grow it.
Community gardens provide inclusive spaces that create opportunities for people with limited resources to grow food. This leads to thriving and diverse communities, mixing generations, languages and backgrounds.
Education was found to be a foundation of engagement with veg. Projects such as the children's allotments at Rooted Community Food help kids engage with food in new ways, to counter the reduction in food skills taught in schools.
There is an appetite for different projects to collaborate and coordinate, such as community gardens linking up with community fridges.
Community gardens improve well-being and the enjoyment of food.
From these findings, they've developed a set of actions, with recommendations from the individual level right the way up to local and national government, and a set of pledges for Eastbourne Food Partnership to deliver. The partnership was then able to present these recommendations, direct from community voices, to their local MP, Caroline Ansell.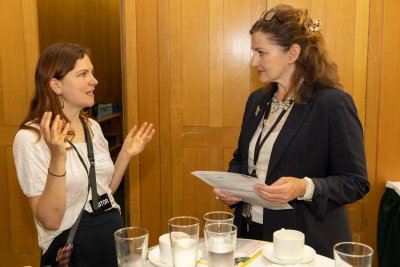 Nancy Wilson from Eastbourne Food Partnership meets local MP Caroline Ansell. Credit: Jonathan Goldberg.
"We were delighted to have the opportunity to share the ways our community partners work together around a common goal of good food for all in Eastbourne, to harness and share the power of veg. For example, it has been brilliant to see the relationships between community gardens and community fridges and kitchens develop across the town, making ultra-local fresh produce accessible and affordable.

"The research has also reaffirmed Eastbourne Food Partnership's commitment to building better networks for sharing experiences, skills and resources around veg - as well as sharing veg itself - through our Veg Pledges. We're so grateful to our local veg heros for participating in the research, as well as building the foundations for better veg futures for the town." – Nancy Wilson, Eastbourne Food Partnership Coordinator.
Check out their Good Food Charter.