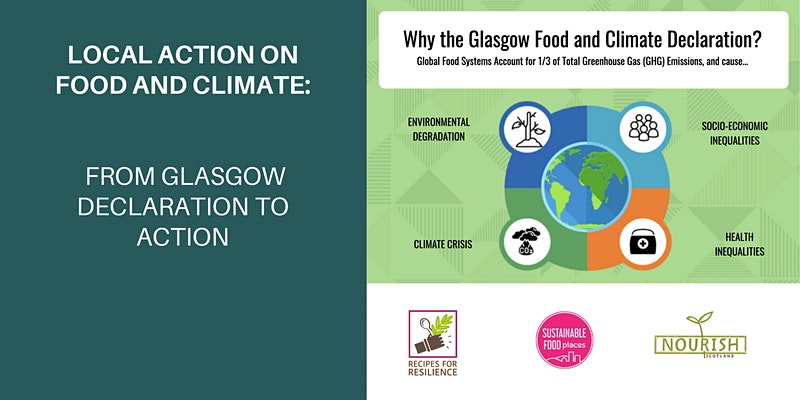 An event to highlight what actions local authorities can take to tackle the climate and nature emergency through food
About this event
This event will follow on from the official presentation of the Glasgow Food and Climate Declaration to delegates and will take place on Cities Day to emphasize the huge role local areas play in tackling the climate and nature emergency. It will inspire everyone with examples from across the Sustainable Food Places Network and other panelists working at the local level. At the end of the panel discussion participants will be able to connect and network over planet-friendly nibbles and drinks.
Arrival from 18:30
19:00 Welcome, intro to Sustainable Food Places and Food for the Planet campaign
Food for the Planet film screening
Panel with speakers from across the Sustainable Food Places network including Alexander Paterson – Glasgow City Council, Anna Clayton – Food Futures, Sarah Hargreaves - Resource Futures, Sonja Woodcock – FoodWise Leeds
20:10 Food and drinks by Chef Steven Brown of Slow Food Chefs' Alliance & WeArePop
21:00 End
This event is part of the 12-day event series, Recipes for Resilience, hosted by Nourish Scotland. Learn more here.
Due to covid capacity — you must have a ticket to attend in-person events
To join online register below: