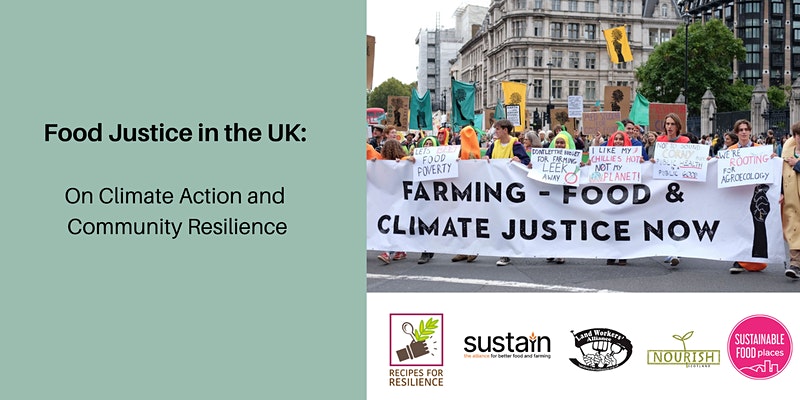 Climate change and growing inequality are two of the biggest issues shaping our food system and exacerbated by it. This event, chaired by the Landworkers Alliance, with speakers from Nourish, Sustain, Landworkers Alliance and Reading-based project Growing Solidarity, will explore both community-level initiatives and national-level advocacy ensuring food fit for the planet is a right for all. We will discuss the false dichotomy of having to choose affordable food vs sustainable and ethical food, and look at upcoming opportunities to make access to climate-friendly food everyone's business.
This event is part of the 12-day event series, Recipes for Resilience, hosted by Nourish Scotland. Learn more here.
Speakers:
Dee Woods, Food Justice Policy Coordinator, Landworkers Alliance
Vera Zakharov, Local Action Coordinator, Sustain & Sustainable Food Places
Irina Martin, Dignity in Practice and Peas Please Veg Advocate Project Lead
Speaker TBC, Growing Solidarity
Chaired by Catherine McAndrew, Community Resilience and Fringe Farming Project Officer
Due to covid capacity — you must have a ticket to attend in-person events, book here.
If you are joining us remotely, please register here
Covid Guidelines:
We highly recommend all attendees take a lateral flow test and test negative before attending any in-person event
Masks required indoors at all times (unless eating or drinking)
Lateral flow test highly encouraged
Track and trace : Everyone must check in with track and trace upon arrival
Do not attend this event if:
• You have symptoms of Covid-19 (a high temperature, a new continuous cough, a loss or change to your sense of smell or taste) even if they are mild
• You have tested positive using a lateral flow test - even if you have no symptoms
• Someone you live with has Covid-19
• Someone you've been in contact with has Covid-19 and you are awaiting results of PCR test
• Someone you've been in contact have themselves been in contact with a person who has Covid-19 – until your contact received a negative PCR test result. If the person you've been in contact with receives a positive result, await the result of your own PCR test.