Blaenau Gwent food partnership is playing a pivotal role in the response to the cost of living crisis, helping administer the various local and national funds available to support food groups, building the capacity of the aid network as well as working with frontline housing association staff.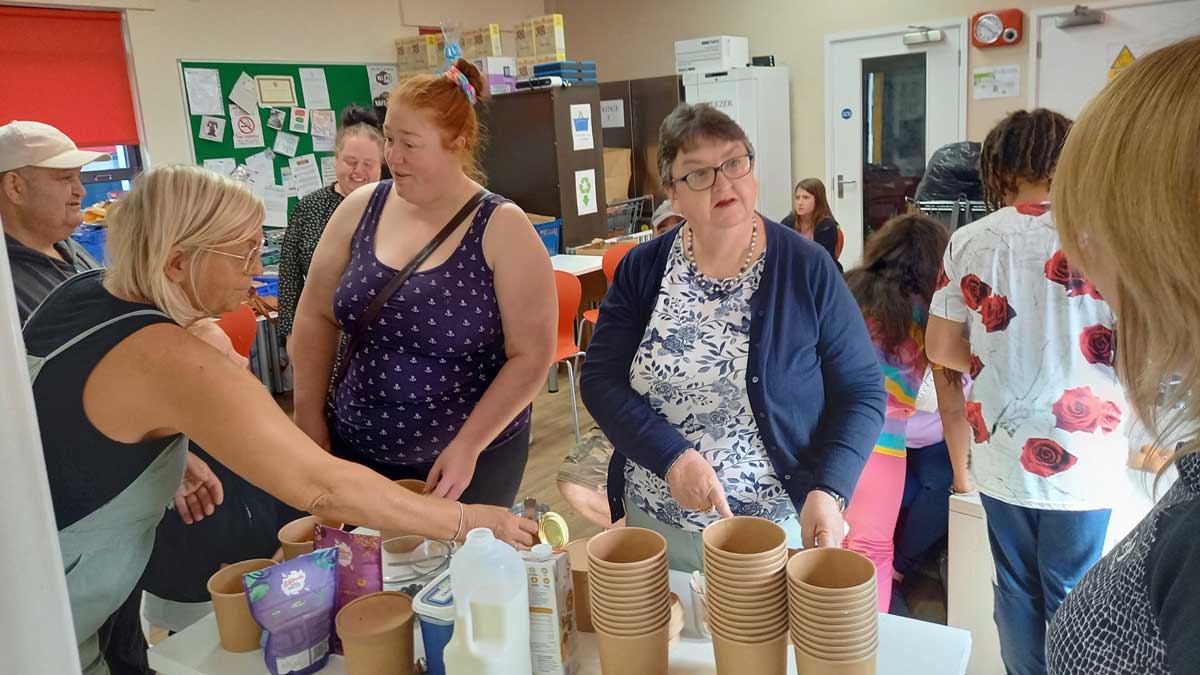 Tai Calon housing association reaching out to community. Credit: Tai Calon
The Welsh approach
The Sustainable Food Programme in Blaenau Gwent is accountable to the Public Services Board, which has been established to improve joint working in every local authority in Wales. Each board must carry out a well-being assessment and publish an annual local well-being plan. The plan sets out how they will meet their responsibilities under the Wellbeing of Future Generations (Wales) Act of 2015. The overriding objective being Generational change whilst working on the problems of the present.
With brilliant work from Food Sense Wales, Wales is championing a food partnership to be housed at every local authority. Currently there are eight, covering local authorities in south, west and mid Wales. In response to the cost of living crisis, the Welsh government have announced a £3 million package in July 2022, some of which will be used to develop new food partnerships and strengthen existing ones.
Outlook in Blaenau Gwent
Blaenau Gwent is the birthplace of the NHS and the irony isn't lost that life expectancy is the lowest in the region, Ebbw Vale is five miles away from Abergavenny in Monmouthshire, but if you were born in Ebbw Vale you can expect to live around 15 years less than your local authority neighbour Monmouthshire.
The Welsh valleys are characterised by former coal villages, which are quite isolated in terms of public transport and absence of shops. One third of the population lacks access to vehicles.
The first childhood measurement survey since before the pandemic showed an increase in obesity in four to five year olds of eight per cent. Food bank usage has rocketed, Trussell trust in Blaenau Gwent has reported an 84 per cent increase in demand compared to covid.
In face of these grim statistics, the food partnership is playing a vital role in building capacity among local Community and Voluntary Sector (CVS) partners.
Building capacity within a wider network
Blaenau Gwent Food Partnership is hosted by Tai Calon, the biggest social housing organisation in the area and is in one of the poorest local authority areas in Wales. Being hosted by a housing association has helped bring in further resources with regards to tenant outreach to reach households who might not want to visit food redistribution points through community housing officers or flyers raise awareness of available food support and available benefits. They recommend other food partnerships develop strong links with local housing associations and build capacity within a wider network.
They play a key role in administering local authority funding by identifying which projects can benefit from Local Authority funding, as well as doing their best to reach new groups and get a good geographical coverage of the area. This is essential as evidence of spending money well led to Health Board funding earlier in the year. They are supporting bids for small pots of funding from CVS partners. For example, the food partnership supported a pilot project to access funding from the health board for their slow cooker project which made boosting vegetable intake as a key priority. The success of the project has seen a £1.8K pilot turn into a £12K project using other funders to serve a much larger area.
Meeting the shortage of surplus food
Blaenau Gwent does not have a tradition of community farms or market gardens but through small pots of funding they have seen some great projects spring up. For example, a local woodland group received funding to start a food growing project. They have since produced Blaenau Gwent's first ever veg box scheme delivered to a food insecurity project, providing low cost veg boxes in the community and they accept Health Start cards.
The Healthy Start booster programme is giving top up top up vouchers to low income families eligible for Healthy Start with local retailers which has strengthened the partnership and community networks.
Through this diversification of sources for emergency food provision, organisations in the partnership are reporting that they have a secure food supply despite Fareshare occasionally not being able to fulfil their order or local donations being reduced.
Warm places and food
Warm places and food are now a thing! With Welsh Government funding there are warm places in public places like libraries popping up.
In summary, Blaenau Gwent Food Partnership is an ally, supporting the network to build capacity, access funding and spend money well. Being hosted by a housing association has helped bring in further resources regards tenant outreach. Similarities in the Covid response require redoubling of partnership working to collaborate with other service providers.
Contact
Chris Nottingham, coordinator, Blaenau Gwent Food Partnership